Chris Kays Memorial Rugby Tournament 2023 – Pattaya Tens
---
The Chris Kays Memorial Tournament 2023 (also known as the Pattaya Tens) is annually organised by the Pattaya Panthers Rugby Club and is confirmed to take place from 29-30 April 2023 with several Men's teams involved.
Update 26th April 2023
There are 12 teams confirmed for the social rugby tournament which are split into two pools of six.
Jim Howard, Chairman Pattaya Panthers Rugby Football Club, said "The concept of the tournament is to play as much fun rugby as possible in great facilities, with like-minded opponents and copious opportunities for after-match entertainment. It is the friendliest tournament in Asia!"
This is also the 21st edition of the Chris Kays Memorial Rugby Tournament and the organisers have said "We are pleased to announce that due to strong public demand, we will be returning to our spiritual home at Horseshoe Point and we are keen to reignite the spirit and atmosphere of many former tournaments which has been missing in recent years. As you are all aware this tournament is dedicated to the memory of our former captain Chris Kays, who was tragically killed in the Bali bombing in 2002."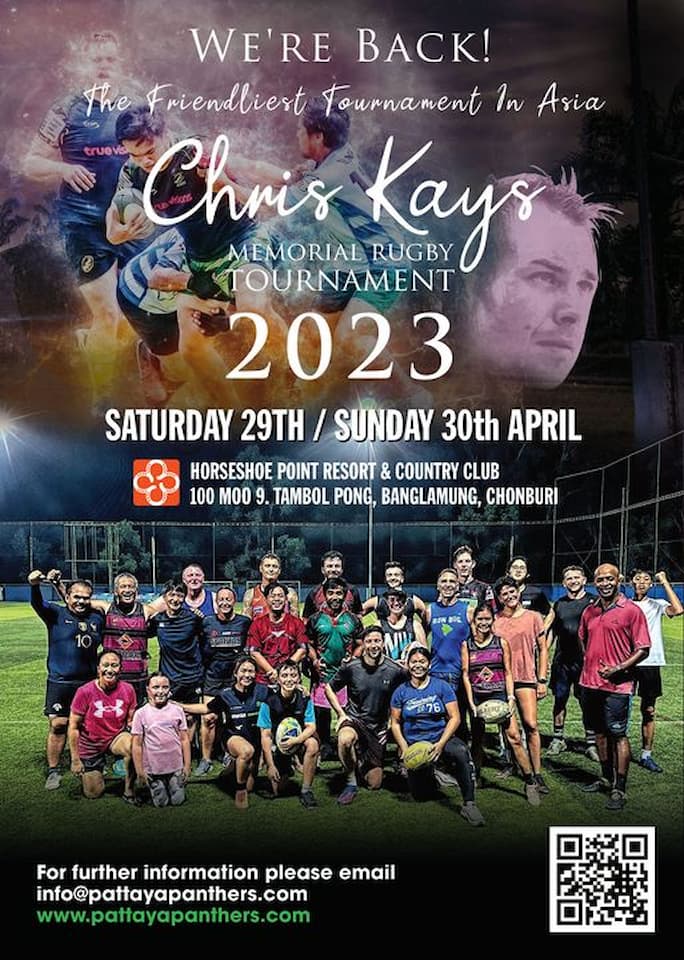 Chris Kays Memorial Rugby Tournament 2023 Format
All teams play a group round-robin format on Saturday 29th April, with (hopefully 16 teams) playing in subgroups of 4 teams each and the results will determine the lineup for the knockout rounds on Sunday for the trophies i.e. Cup, Plate, Bowl and Shield.
Matches will kick off at 10 am on Saturday 29th April 2023 and 9:30 am on Sunday 30th April 2023, and finish at approximately 6:00 pm. There will be a full range of food and beverages available during both days of the Pattaya Tens tournament.
In total, there will be 24 tens rugby games on Saturday and 24 games on Sunday.  A digital programme for the tournament will be released with the schedule and teams to be confirmed.
In Thailand, 1st May 2023 is a public holiday therefore so players could spend an extra day recovering in Pattaya.


Pattaya Tens 2023 Pools
Pool A
Southerners Black
CU Rugby Club
FABS
Burapha Rugby Club
Bangkok Japanese
Phuket Vagabonds
Pool B
Hong Kong Scottish
Southerners Gold
Pattaya Panthers
Royal Thai Air Force
BC Legends
How To Watch the Chris Kays Memorial Rugby Tournament 2023 – Pattaya Tens?
All of the matches from the Chris Kays Memorial Rugby Tournament 2023 will be live-streamed on Youtube.
Date: 29-30 April 2023
Venue: Horseshoe Point Resort & Country Club, Pattaya, Thailand
Rugby Tournaments Asia 2023
---
Trending Now