Crossing The Gain Line – Rugby Development in Myanmar
---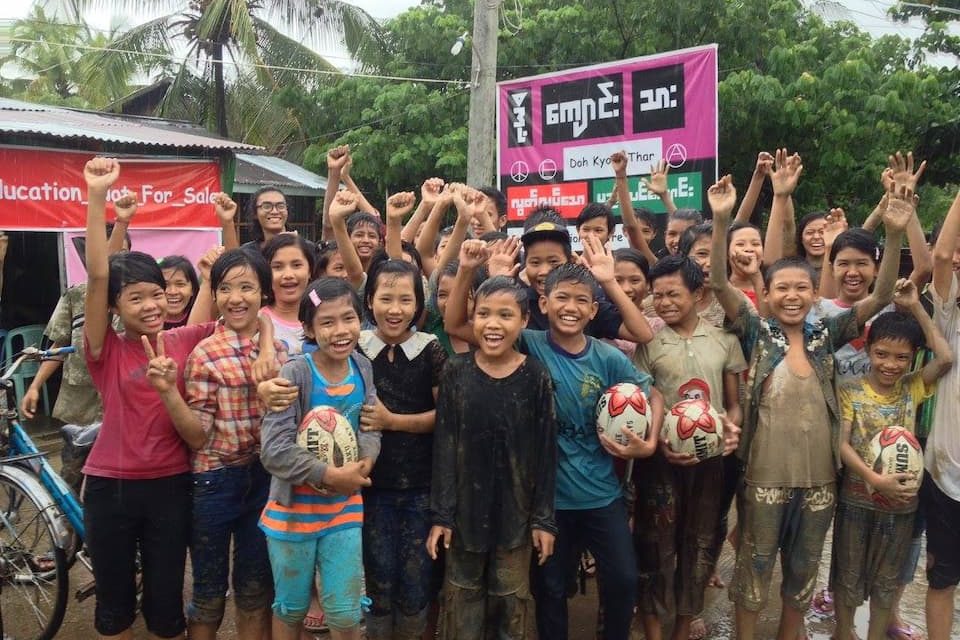 Crossing the Gain Line is a youth rugby development charity based in Myanmar that was forged from the groundwork laid by the Little Dragons program. In 2019 they were registered as a charity and aimed to grow the rugby activities, then COVID-19 struck – putting the brakes on their work. A year later, the military coup took hold of the country.
We hear from Tladi Small, the current Chairman of Crossing The Gain Line (CTGL), who explained to us the difficulties the program is facing under the current political and humanitarian situation in the SEA nation.
On their website, it says "In Myanmar, young people account for about 28 per cent of the total population, as such it is vital that they are prepared for the future. Our young Myanmar "coaches in development", help build a link to the community as well as develop a sustainable rugby family in the country."
From coaching nearly 300 local Myanmar kids on a weekly basis, the program was initially affected by the global pandemic and then the military coup derailed plans further.
"We had to change tact. Crossing the Gain Line is now supplying food to those kids that used to play rugby," Tladi told us.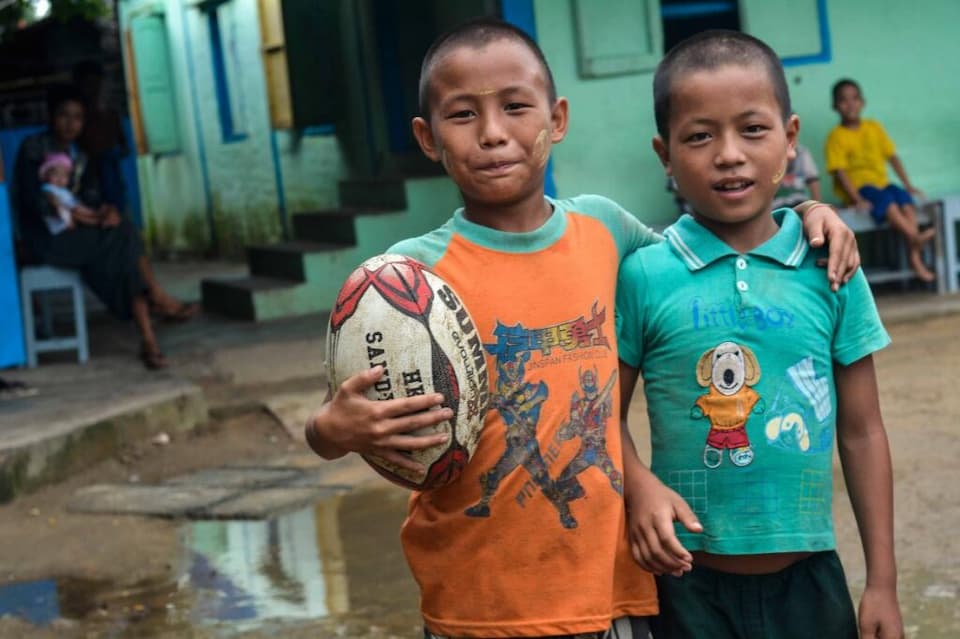 The Roots of Crossing The Gain Line in Myanmar
Crossing the Gain Line evolved from the work done by the Yangon Dragon RFC and their Little Dragons program. This was led by a group of volunteers who coached and taught rugby to a group of underprivileged young people in South Dagon, Yangon.
In June 2019, Tladi Small was asked by the volunteers, who had been running the sports development program, if he was interested in taking over coaching the Sunday morning sessions, as the volunteers were leaving the country.
At the time, Little Dragons were running sessions on a makeshift field on the outskirts of Yangon. When not being used by young Myanmar kids, barefoot but with smiles etched on their faces throwing around the oval ball, the field was sometimes used as a cockfighting ring or a fairground.
Every Sunday, boys and girls aged five to 18 from Yangon's North Dagon Township played touch rugby, "an incongruous sight in a country where the sport is barely known" said Frontier Myanmar in 2019.
Tladi and his co-coach believed they could do more, he told us, "we started to look for other groups outside the Little Dragon program who could be coached in rugby."
By August 2019 Tladi said they had made contact with Sonne Social and Step In Step Up programs. "These organisations had groups of local Myanmar kids who were ready to experience a new sport."
A month later, he had forged connections with an international school and soon had Saturday, Sunday and Thursday sessions with different groups of kids in the Yangon region. "We had recruited international teachers to help with the coaching. We were also starting to get some money from a local business."
By October 2019, Tladi said the partnership with the international school allowed local kids to play on a Thursday morning, and they would get one hour of rugby coaching (from him as he worked at the school), some food and then 45 minutes of Art, English Science etc. This was all provided by volunteer international school teachers.
By then, the program had about 200 kids and they had submitted charity registration forms to formalise the organisation. "We always knew that we were going to grow the program. So, Crossing the Gain Line was formed."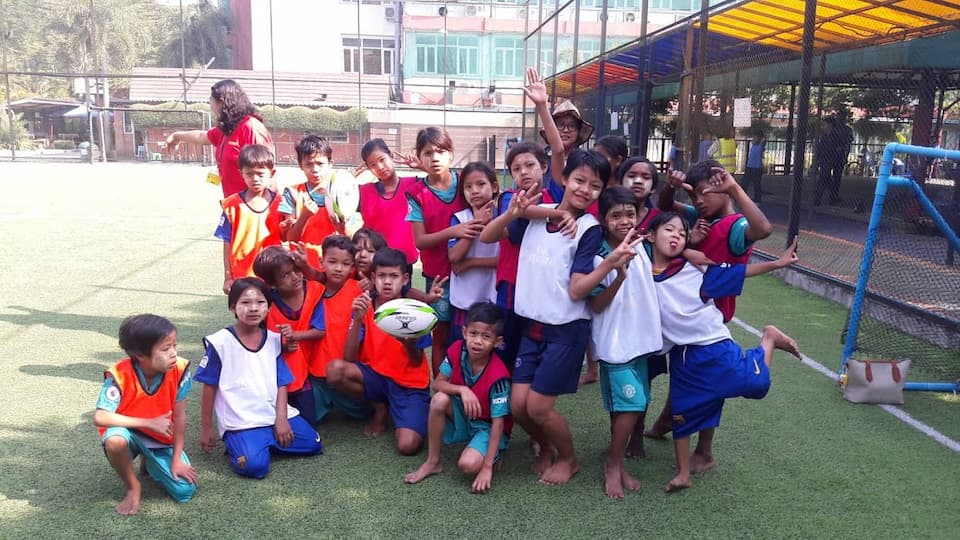 Crossing The Gain Line launches
In December 2019 the program was registered in the UK as a charity with operations in Myanmar, and a head office in London.
As a part of the changes, The Little Dragons would fall under the banner of Crossing the Gain Line which meant it could benefit from the resources that CTGL could provide.
"We had moved the Little Dragons from the cow fields early in July 2019, to a covered astroturf field, and we had a mechanism by which we could get some donations to pay for the field, rather than relying on gifts from friends",  said Tladi.
"Our aim was to develop kids' rugby by having a number of different groups in the area being coached, and then set up tournaments between them. We would develop local coaches, leading to a sustainable program where youth rugby would be thriving amongst the Myanmar people."
Crossing the Gain Line's aim was, and is, to provide young Myanmar people access to rugby and activities on a regular basis. The program uses rugby's core values of integrity, passion, solidarity, discipline and respect.
There are four different groups listed on the CTGL website and these were the "team" names the kids could use to play against each other. They were all coached on different days and at different locations. 
These 'teams' are:
Little Dragons

Thaketa Thunder

Step In Step Up / GAP Kids (Dulwich Pun Hlaing)

Step In Step Up/ GAP kids (Dulwich StarCity)
Impact of COVID and the Military Coup in Myanmar
Due to the COVID-19 situation, everything was shut down in Myanmar in March 2020. It was nearly six months before Crossing The Gain Line could meet to discuss how and when they could kick start the program – but then a second wave caused a complete shutdown in the country.
By January 2021, nearly a year after the program was placed on pause, talks restarted about recommencing the sports program but then the coup in the country derailed things further on February 1 2021.
The democratically elected members of the country's ruling party, the National League for Democracy (NLD), were imprisoned by the Tatmadaw, Myanmar's military, and since then the country has been pitted in a bitter internal struggle.
Tladi and the other coaches had been in limited contact with the youths they coached due to local restrictions and when they contacted them shortly after the coup, with the situation deteriorating, they heard the kids were desperate. The decision was made to start providing food.
"We contacted Metro Wholesale (not military-owned) and built a relationship where they made food packages for us. We buy the food and get them to our charity partner who gets them to the kids and families." Some large bags of rice, such a food staple in Southeast Asia, were also provided.
"Of course, we could not say 'you get food because you played rugby, and you don't.' We just provided food to all those we could in the village," said Tladi.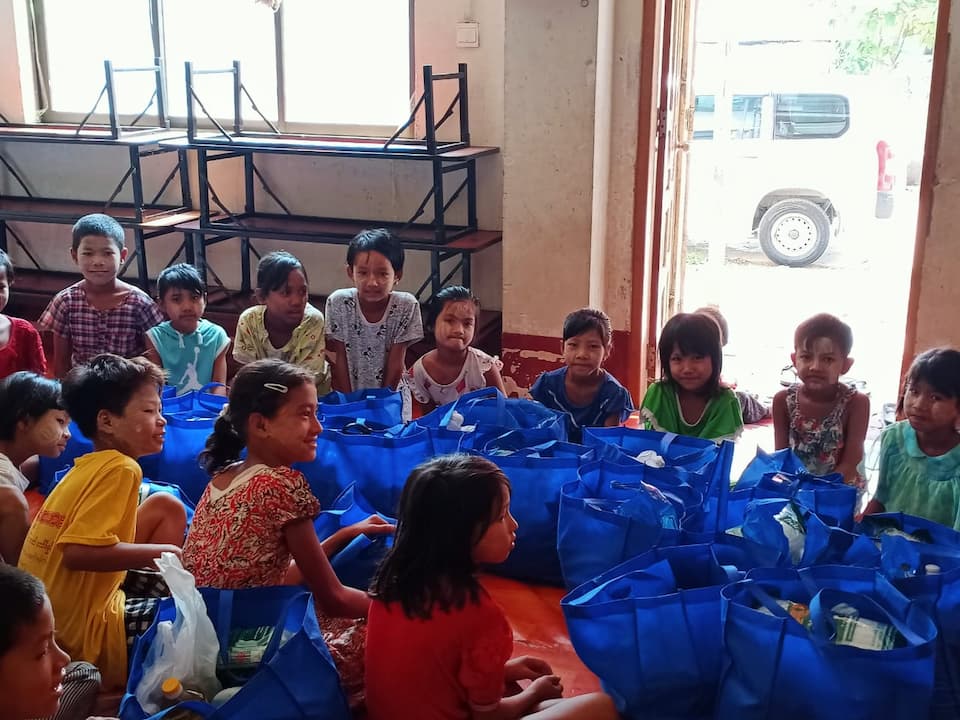 The Future of CTGL
"At a recent meeting of trustees, we all felt the situation is not going to allow kids' rugby activities to take place in a safe environment for at least a year."
The Chairman told us that they will keep fundraising and keep feeding the families for at least a year, ending in February 2022. They will also keep some funds aside for when rugby activities are able to start again.
"We will make connections with more charities and NGOs to look for more long term solutions.
We are not the World Food Program, we are just helping out in a really bad situation. But we realise that we are a rugby family and we can look after the kids and their families that once played with us until we can get them back on the rugby field."
Will they expand in the future?
"Of course, our aim was always to expand, and if safe, we will look for groups with which we can grow the game. This will also most likely mean feeding more kids and families as food insecurity is a major problem in the country. Our aim for Crossing the Gain Line to be a place for kids to play rugby in Myanmar."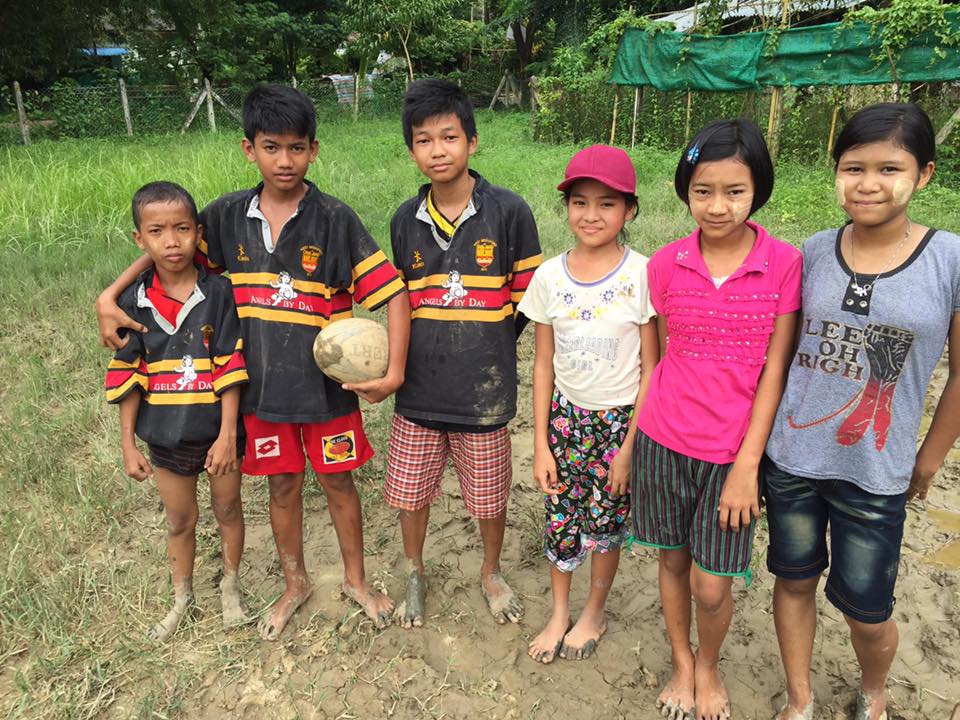 How can the rugby community assist?
"Donations! Food donations are needed more than a rugby ball. We have a number of channels to donate through as you see on our website or via our new GoFundMe. 
There are three of us now running this, we are all volunteers, 100% of the donations go to the kids."
A small donation of £10 per month can help to feed a small family of two.

£25 will help to feed a family of four for two weeks.

£50 will feed a family for a month and get them desperately needed water purification tablets.
There is no Myanmar national rugby union – How do you plan to expand in the future?
"Even though Myanmar doesn't have a national union and probably won't for years (and therefore doesn't exist to World Rugby, Asia Rugby etc) we are still out there."
Tladi added, "We can't play or coach at the moment; we are using the rugby spirit to keep these families going at this time.
There have been many talks about getting this done over the years (forming a rugby union) and I have been part of them at times. Like in many countries, it is complicated here in Myanmar.
Now with the coup, it is impossible. There is no government."
You can see more on the Crossing The Gain Line Facebook, and Website. Thanks to Tladi Small for taking the time to speak with us. All photos are credited to Crossing The Gain Line.
Rugby Development in Asia
---
Trending Now