Guide To Asia Rugby Regional Qualifiers – Olympic 7s 2024
Posted On November 17, 2023
---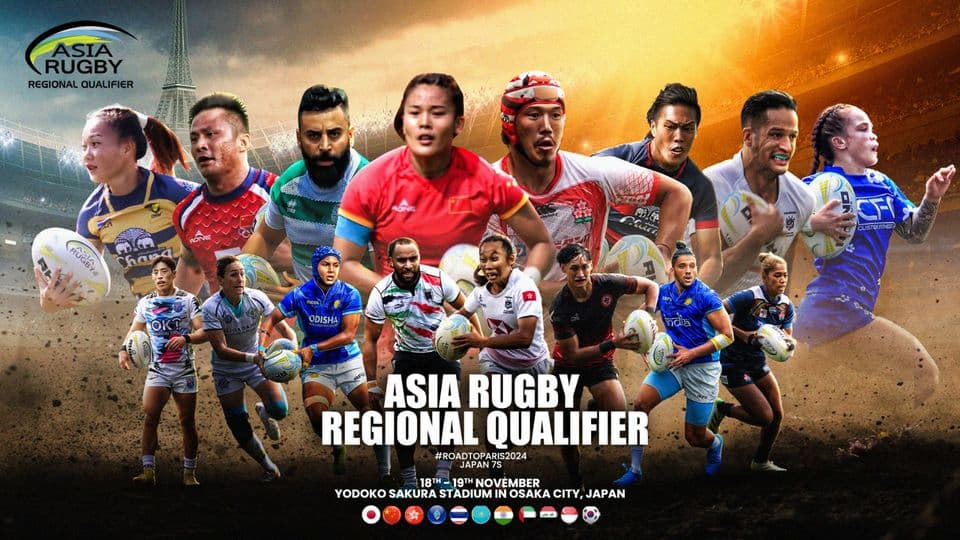 The Asia Rugby Regional Qualifiers for the Paris Olympic 7s 2024 take place this weekend in Osaka, Japan from 18th to 19th November 2023 with a large contingent from Asia trying to qualify. Here is the guide on all you need to know.
Updated 17th November 2023
There are seven national women's teams, and eight men's teams heading to Japan's Yodoko Sakura Stadium to stake their spot for the Paris Olympics.
As always, we will update the guide when more information is released, so please check back.
Who Qualifies For 39th Summer Olympic Games Paris 2024
With the winners progressing from Osaka, the runners-up and 3rd place teams earn one more chance at the Repechage tournament which will take place in 2024 at a to-be-confirmed location and date.
The seeding in the pools was also determined by how teams finished the Asia Rugby Sevens Series and Trophy 2023.
The Japanese men won the ARSS 2023 followed by HKCR, while the Japanese women also won the ARSS 2023 with the China ladies the runners-up.
The Thailand men and UAE women won the Trophy event earlier in November 2023 in Qatar but the latter are not at this weekend's tournament.
Iraq men were due to play in Japan but have been a late withdrawal.
Which Teams Have Qualified for Paris Olympics 2024 Sevens Rugby
In total, 12 women's and men's teams will participate in the Paris 7s Olympics.
Women: France, NZ, Australia, USA, Ireland, Brazil, GB,  Canada, South Africa, Fiji
Men: France, NZ, Argentina, Fiji, Australia, Uruguay, Ireland, USA, Kenya, Samoa
Asia Rugby Regional Qualifiers Match Officials – Olympic 7s 2024
Asia Rugby confirmed the match officials and added that "due to the significance of the tournament, World Rugby has directly appointed a set of Match officials to complement Asia Rugby's direct appointments."
Match Referees
Leow Wei Liang – SRU
Ibuki Tetsuka – JRFU
Christabelle Lim Mee – SRU
Qu Shenggang – CRFA
White, Morgan Ellis – HKCR
Lee Chui Yan – HKCR
Lin Weiming – CTRFU
Chan Craig Chung Ho – World Rugby / HKCR
Kuwai Ano – World Rugby / JRFU
Ben Breakspear – World Rugby / Wales Rugby Union
Coach of Match officials / Television Match officials (TMO)
Barr Shane Damian – SRU
Taku Otsuki – JRFU
Matt Rodden – World Rugby / HKCR
Citing Commissioner (CC)      
Ybena Ralph Sytze – Asia Rugby
Jonathan Close – Asia Rugby
Mohammed Azhar Bin Yusof – Asia Rugby
Judicial Officer (JO)      
Hiroyuki Komyo – Asia Rugby
Women's Teams & Pools – Asia Rugby Qualifiers Paris Olympic 7s 2024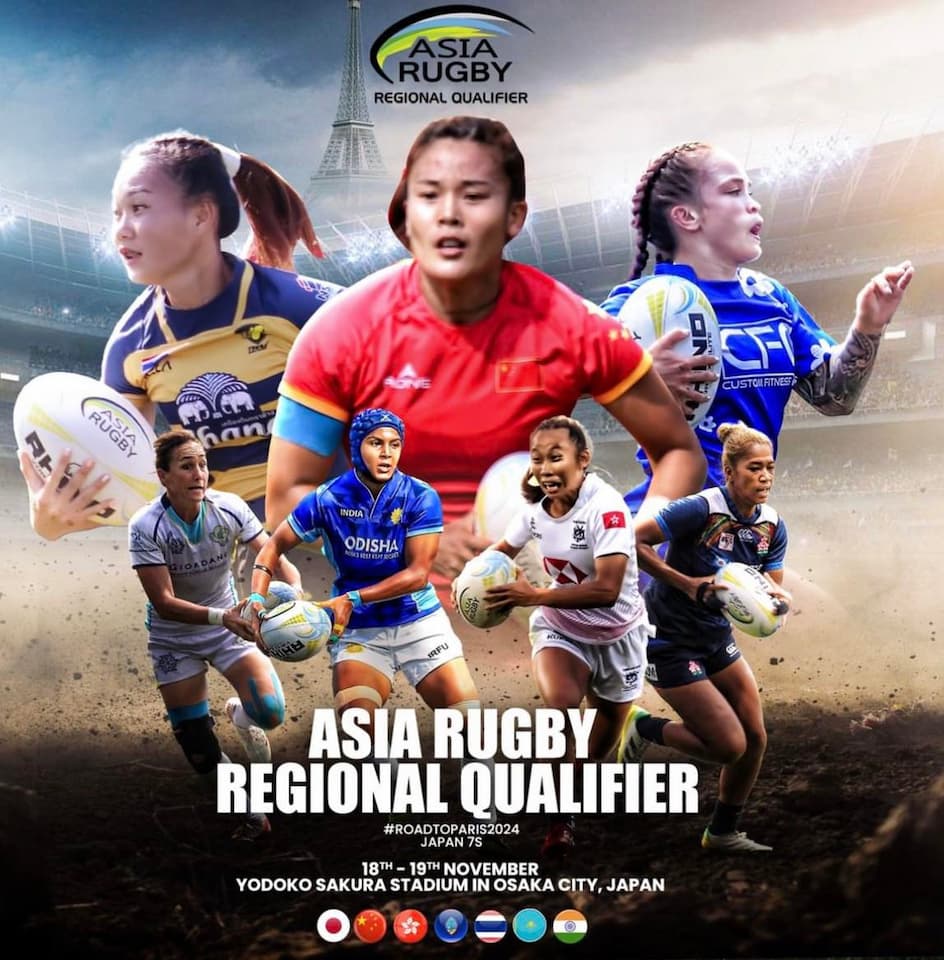 POOL D
Japan
Thailand
Kazakhstan
BYE
Japan Sakura 7s
The Sakura 7s women are in the World SVNS Series, are the reigning ARSS 2023 champions and silver medalists at the Asian Games and will be one of the favourites playing at home in this tournament.
Wakaba HARA is one of their many standout players and has real pace to burn, while experienced Takashi SUZUKI is once again their Head Coach.
Yume Hirano, the Sakura Sevens captain said of Asia Rugby Qualifiers Paris Olympic 7s 2024, "As we know that things won't go easy in Asia and you can't expect to win by playing only with fine skills, we should also be prepared to play ugly and with dedication. Every one of us on the team is pretty much aware of that. We want to be the ones who go to the Olympics, and that determination can be shown in our play."
Thailand Women 7s
The Thailand women's sevens team appointed a new coach on the eve of the ARSS 2023 Bangkok leg (Tom Biggs). They still had a good series finishing 4th overall, but were bitterly disappointed by the bronze at the Asian Games.
They have set themselves the goal of being in Paris in 2024 and qualifying for the World SVNS Series from the repechage events in 2024.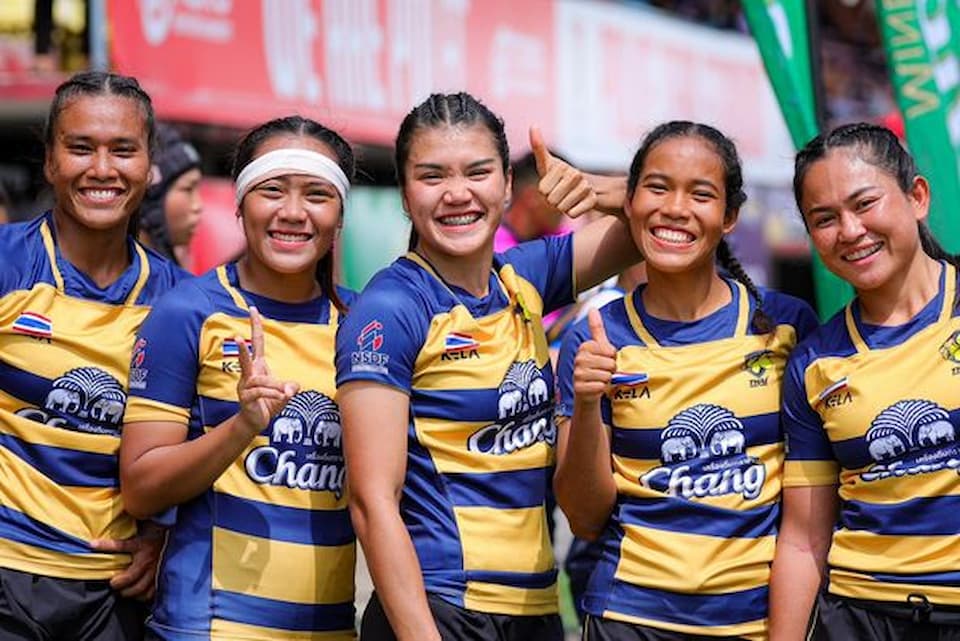 Kazakhstan Nomads 7s Women
The Kazakh Nomads seem to have tailed off slightly from the leading women's teams in Asia – China, Japan, Thailand and Hong Kong. However, with a newish coaching team and a physical side, they will be hoping to make it out of a very tough pool A in Japan.
POOL E
China
Hong Kong China
India
Guam
China Women 7s
The China women are the gold medalists from the Asian Games held in 2023 but were runners-up in the ARSS after losing a crucial match against Hong Kong China in the second leg in Bangkok. They remain the favourites along with Japan.
HKCR Women 7s
The Hong Kong China Rugby Women's 7s team are on a high after great results in the 2023 ARSS saw them finish third overall, while also claiming the bronze at the Asian Games. They seem to be excelling under new Head Coach Andy Vilk.
He also took the squad to a training camp in Malaga, where they played team Great Britain and Spain in warm-up matches to help them prepare.
Paul John is head of the Rugby Sevens programme at the Hong Kong Sports Institute (HKSI), and serves as team manager for the men and women in Osaka.
John said: "To win some very, very close games like we did, especially against Japan in the last seconds in Hangzhou, proves what we can do, and gives us the confidence we need. For the girls to get that first medal is a massive achievement, and beating China for the first time since 2015 in Thailand as well. They expect things of themselves now, and rightly so; we just have to take the group as it comes."
There is just one change from the Asian Games team with Poon Hoi Yan coming in for Ho Tsz Wun in the women's team.
Squad: Natasha OLSON-THORNE (co-capt.); LI Nim-yan, Melody (co-capt.); AU YEUNG Sin Yi; Chloe CHAN; CHAN Chor Ki, Stephanie; CHONG Ka Yan; Shanna FORREST; FUNG Hoi Ching; HO Wai On, Jessica; NAM Ka Man; POON Hoi Yan, Vivian; TSE Wing Kiu
India Women 7s
The India women's sevens team competed at the Trophy Series in November 2023 and again finished runner-up, narrowly missing out on a chance for promotion to the ARSS 2024.
Guam Women 7s
Understandably the underdogs this weekend, the Guam women competed in the Trophy Sevens in Qatar but will have to have the tournament of their lives to qualify from Pool B.
Men's Teams & Pools – Asia Rugby Qualifiers Paris Olympic 7s 2024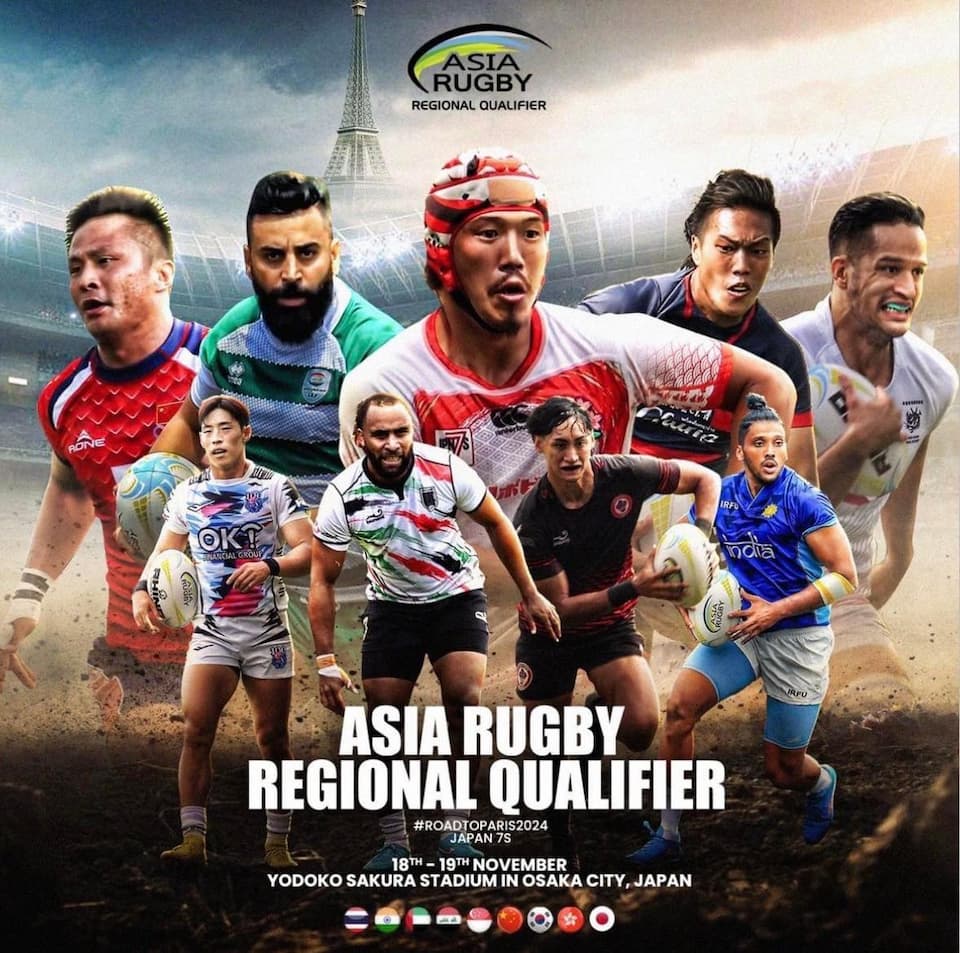 POOL A
Japan
China
South Korea
India
Japan Men 7s
The Japan men's sevens team have been in camp in Fukuoka and even had some preparation matches against the Chinese men who were also in camp.
The Japanese were relegated as a core World Sevens team last season, and finished behind HKCR and Korea at the Asian Games, but are the ARSS 2023 champions. They will undoubtedly be on of the favourites to win or at least qualify for the Repechage tournament with an experienced coaching group led by Simon Amor.
Amor said, "The top four teams in Asia – Hong Kong, Japan, China and Korea – are really stepping up and UAE are also rightly in the mix, they've got a nice blend of Islanders in there, so it's going to be a nice tussle…Asia is a brilliant place for rugby, there is such diversity of play in the style of the teams which makes it so exciting to watch."
Osaka native and Japan men's captain Taisei Hayashi said, "This is my seventh season as a sevens player and this coming qualifying tournament is the first official tournament for us to play here in our country. So, I am happy about showing our game to our people here this time."
China Men 7s
The China men have been in camp in Japan and even played the hosts, which will make the pool match between each other interesting. The Chinese lost all three warm-up matches but have shown this season they are a force and were 4th in the ARSS 2023.
South Korea Men 7s
Coach Lee Myung-geun took his South Korean men's 7s team to Fiji to prepare for the Qualifiers. The team had a poor Asia Rugby Sevens Series 2023, especially in the second leg in Bangkok where they fielded mainly a university team.
The South Koreans are also the current silver medalists from the Asian Games held in 2023, after losing to HKCR men in the final.
South Korea Rugby Union President Choi Yoon said, "I hope that our players who left for Osaka with their dreams will show off the infinite potential of Korean rugby and that it will be a time for them to gain valuable experience that will be helpful for the rest of their lives. The new players who have taken over the baton from the leading players will participate in the regional preliminaries and show off their passionate passion and beautiful challenges, so please show your support."
The side will be hoping to repeat their heroics from qualifying for the Tokyo Olympics 2020 (their first Olympic 7s rugby qualification) at Hong Kong men's expense.
Squad: Kim Yohan, Yang Joon Hyuk, Baek Jong Eun, Kim Hyun Jin, Jang Hyun Gu, Park Woo Bin, Jung Yeon Sik, Yoo Jae-hoon, Kim Jae-wan, Lee Moon-gyu, Kim Won-ju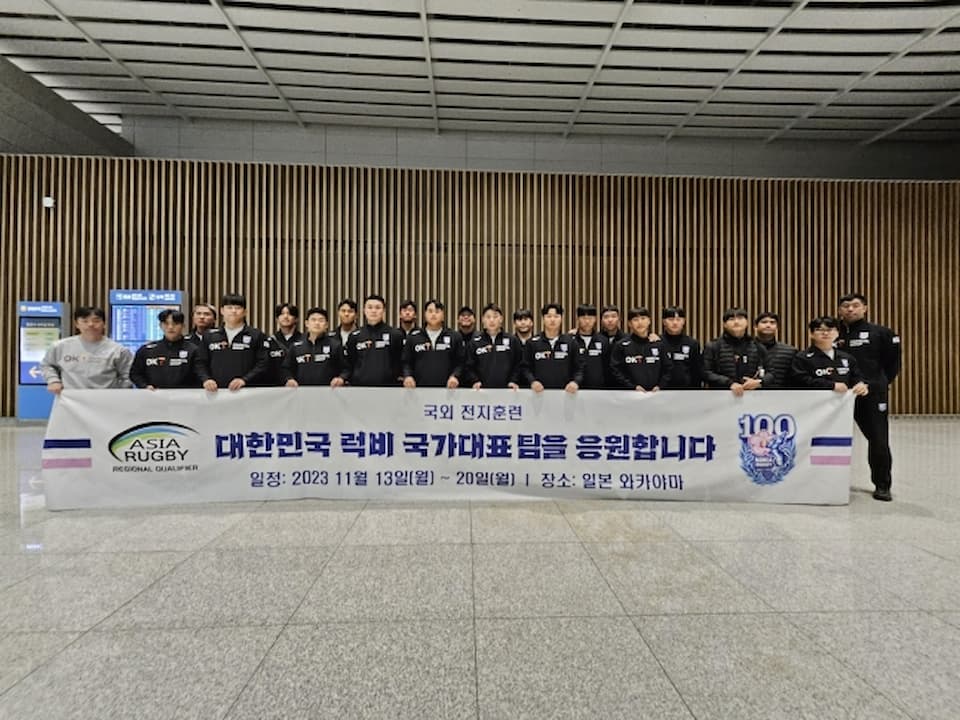 India Men 7s
The Indian men's sevens team also participated in the Asia Rugby Trophy event in Qatar. They will gain valuable experience but are not seen as one of the pool favourites in Osaka.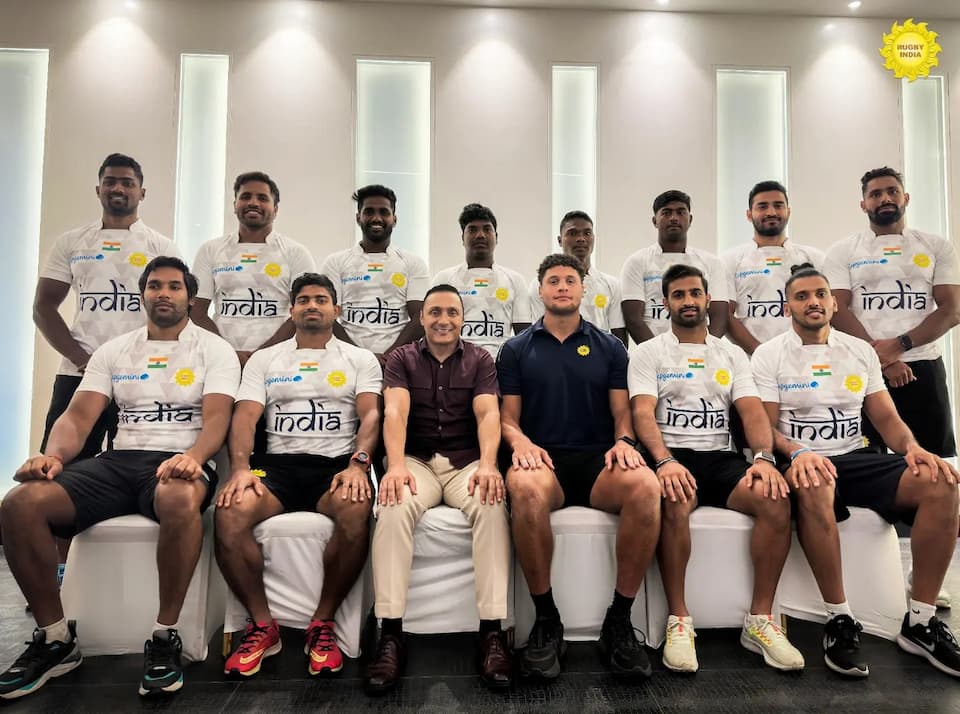 POOL B
Hong Kong China
UAE
Singapore
Thailand
Hong Kong China Men 7s
The HKCR men will hope to make up for a shock loss to South Korea four years ago and will be one of the favourites to win the tournament or at least finish in the top three. The reigning Asian Games champions and ARSS 2023 runners-up are primed Pool B with an experienced team and Head Coach Jevon Groves will be determined to win in Osaka.
Russell Webb, said, "In training, we've been really honest with ourselves and our standards have been high. I think we are in a good position to get the job done this weekend. This is the closest we've ever been and I think that shows from our recent successes in the Hong Kong Sevens, the Asian series, and the Asian Games."
There is just one change from the Asian Games team with Bryn Phillips coming in for the injured Hugo Stiles.
Squad: Max WOODWARD (Captain); James CHRISTIE; Michael COVERDALE; Max DENMARK; Liam DOHERTY; Liam HERBERT; LEE Ka-to, Cado; Alexander McQUEEN; Alessandro NARDONI; Bryn PHILLIPS; Russell WEBB; YIU Kam-shing, Salom.
United Arab Emirates Men 7s
The UAE men have experienced Head Coach Apollo Perlini who will try to lead his team out of a tough pool. They finished 3rd in the ARSS 2023 overall and Emirates Rugby Union Secretary-General, Mohamed Sultan Al-Zaabi, said: "We are seeking a positive result in the playoffs, to qualify for the Paris 2024 Olympic Games despite the difficult task and we have prepared the players well, and we are confident in their ability to compete on the qualification card."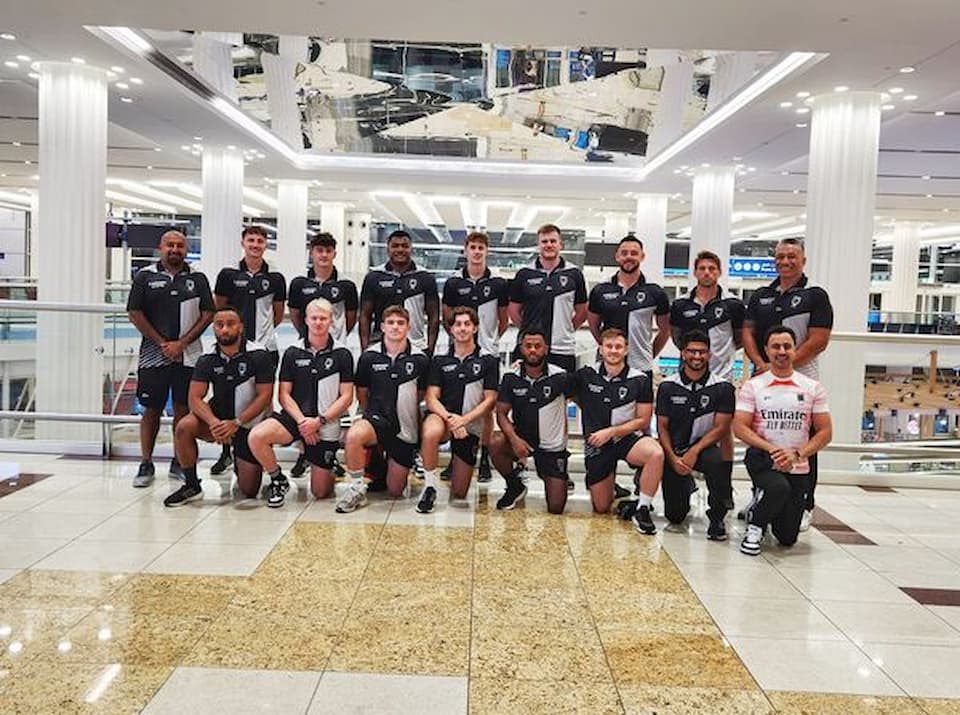 Singapore Men 7s
The Singapore men finished 7th in the ARSS 2023 and will be up against some big challenges to try and qualify.
Thailand Men 7s
The Thai men have qualified for the ARSS 2024 after winning the Trophy Sevens in Qatar in November and come into the Japanese qualifiers with confidence.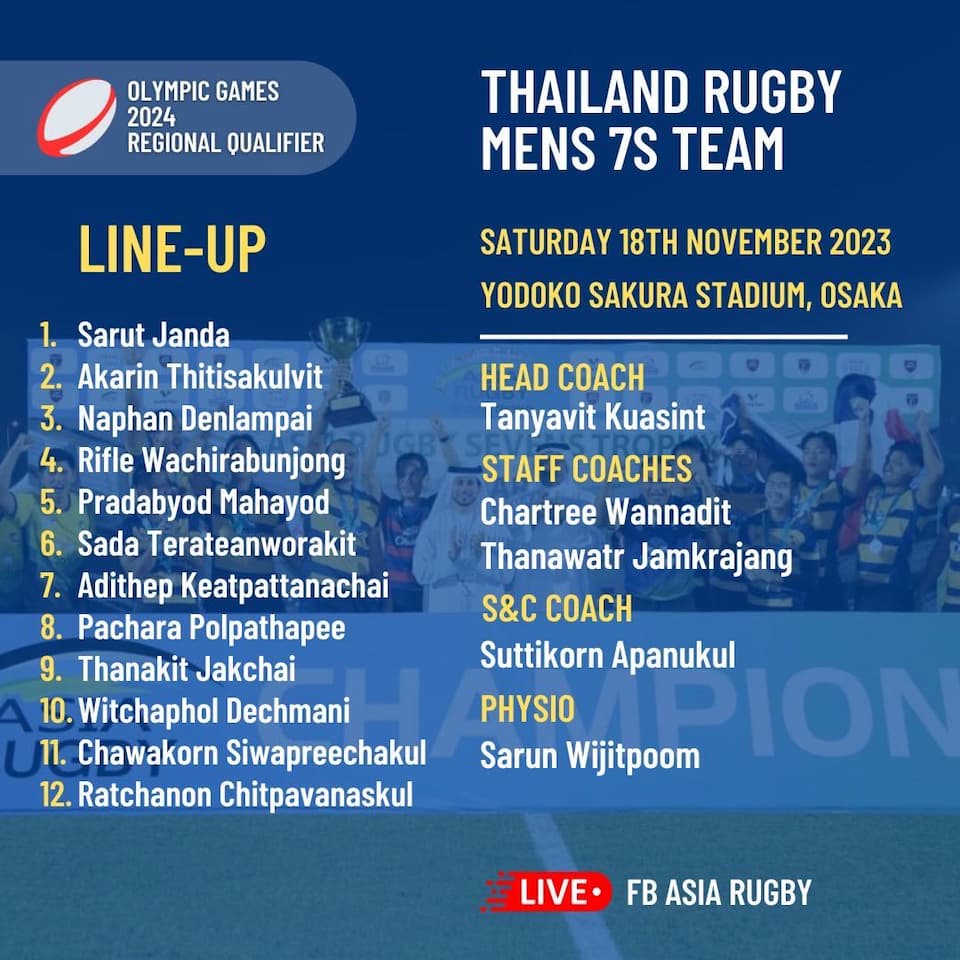 How To Watch The Asian Regional Paris Olympics 7s Rugby Qualifiers
The tournament schedule is available on the JRFU but more information should be released by Asia Rugby.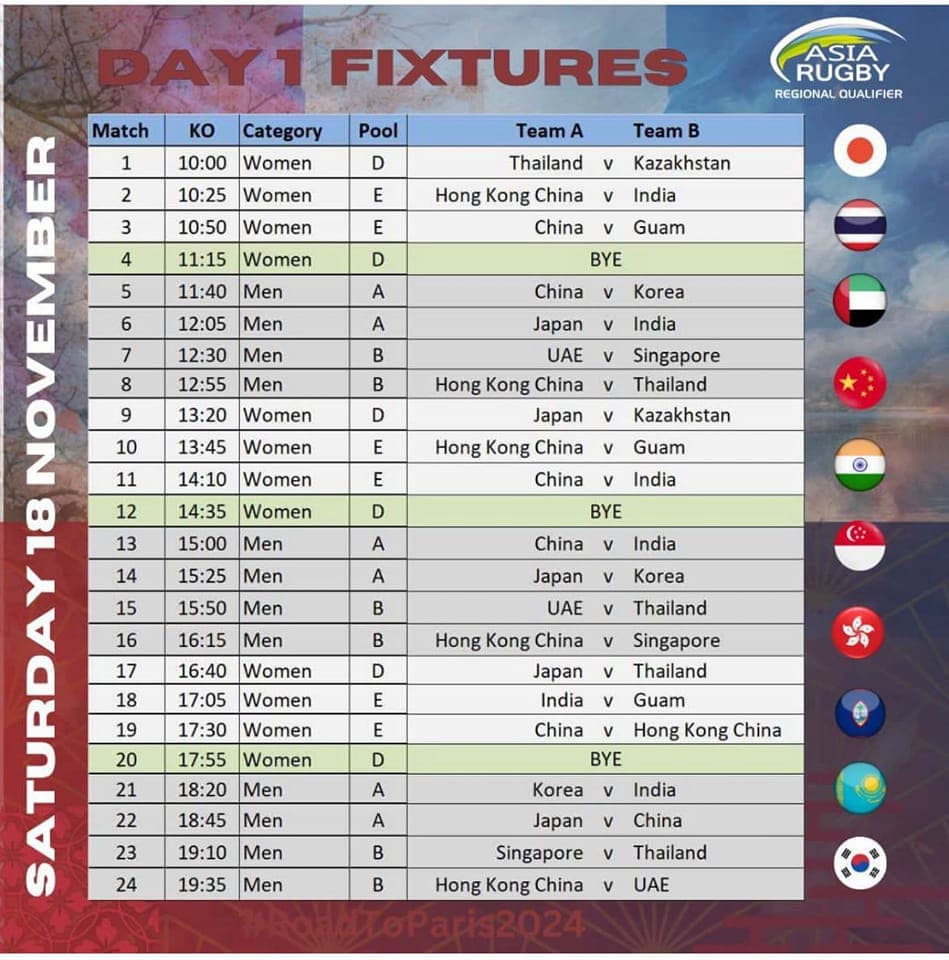 The Asian regional qualifiers for the Paris Olympics will be broadcast live on the official YouTube and Facebook pages of the Asian Rugby and also be available on some broadcast platforms in Japan.
Rugby Sevens News
---
Trending Now