Hong Kong Sevens Squad Confirmed – Cathay Pacific/HSBC Hong Kong Sevens 2022
Posted On October 31, 2022
---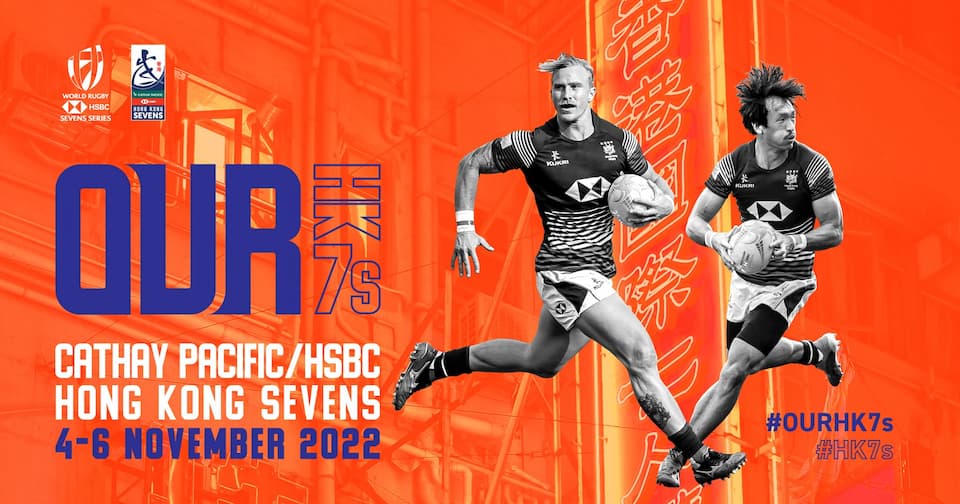 The Hong Kong Rugby Union announced their men's sevens squad for the Cathay Pacific/HSBC Hong Kong Sevens 2022, which runs from 4-6 November 2022 at the Hong Kong Stadium – this is the first HK Sevens tournament since April 2019.  
The squad selection includes 5 players who will play in their first home tournament;  Alessandro Nardoni, Harry Sayers, Pierce Mackinlay-West, Liam Doherty, Mak Kwai-Chung.
The Men's Sevens team recently began their title defence of the Asia Rugby Sevens Series 2022 claiming the first leg in Bangkok Thailand, and the HK Sevens takes place before the crucial second and third legs of the ARSS are played.
Paul John – head of HKRU sevens, and men's sevens coach Jevon Groves have retained the same playing for the Cathay Pacific/HSBC Hong Kong Sevens 2022.
The HKRU coaches said: "It was a fairly easy squad to name after a very good performance in Bangkok. It would have been very difficult to drop any of the players given their performances as individuals, and as a team. But with the tight turnaround in tournaments, it also made sense. With those players coming off of a tournament, we felt they had the consistency we need. These guys are primed to play."
Hong Kong squad for Cathay Pacific/HSBC Hong Kong Sevens 2022
Max WOODWARD (Capt.)
Seb BRIEN
Mike COVERDALE
Max DENMARK
Liam DOHERTY*
Cado LEE Ka-To
Alex McQUEEN
Pierce MACKINLAY-WEST*
MAK Kwai-chung*
Alessandro NARDONI*
Harry SAYERS*
Russ WEBB
Salom YIU Kam-shing
*Cathay Pacific/HSBC Hong Kong Sevens debut
Ten players in the HK squad also played in the Rugby World Cup Sevens 2022 in Cape Town but several are returning to play in front of their home crowd.
Captain Max Woodward – earns his 5th Hong Kong Sevens selection and his 4th as captain.
Salom Yiu-Kam-shing – Hong Kong's most capped Sevens player earns his 11th Hong Kong Sevens in 2022 and could potentially extend his appearance record to 12 when the sevens return to Hong Kong in April 2023.
Alex McQueen – earns his 8th Hong Kong Sevens after making his debut in 2009 and taking a break from his playing career to train as a pilot for Cathay Pacific.
Lee Ka-to – will play his 7th Sevens.
Michael Coverdale –  set to make a 6th HK Sevens appearance.
Seb Brien and Russ Webb – will mark their 3rd Hong Kong tournament in November.
Groves added that Brien, Webb, Woodward and scrumhalf Cado Lee are notable for their impact, "These are the leaders in our team. When they perform the whole squad performs and they aren't recognised enough for the impact they make on the group. Coaching in Thailand was easy for us with the way they took ownership on and off the field."
HK Sevens 2022 – Tough Pool Challenge
Hong Kong is pooled with World Series champions Australia, New Zealand (who have won the HK Sevens 11 times) as well as Samoa in Pool A.
Coach Grove said of the challenge
"Our expectation is to go out and be extremely competitive in front of our home crowds. The pressure isn't really on us. We want the players to enjoy the experience as it has been a long time coming. We just want to focus on doing what we are good at, and playing with confidence."
He added, "We are challenging ourselves to not only maintain the performance from Thailand but take it to the next level."
Cathay Pacific/HSBC Hong Kong Sevens 2022 Fans
Last week, the HKRU confined that over 30,000 fans will be in attendance to welcome the kick-off of the first Hong Kong Sevens since 2019. This number is within the venue's reduced capacity limit of 85% (approximately 34,000) due to local health and safety measures with the country still having a number of COVID-enforced restrictions.
HKRU Chief Executive Robbie McRobbie said "With music, food and drink, and some of the fastest rugby on earth in store, it seems that Hong Kong is ready for the Sevens to return, and we are most definitely ready to bring it back."
They acknowledged that the restrictions have put off some long-distance travellers but added "We are however very encouraged by the number of messages we are receiving from long-time visitors and overseas travel partners about returning in April," said Mr McRobbie.
HK Sevens Fan Engagement –  NFT Digital Collectables
The Sevens has taken its first step to enter the metaverse and is offering a collection of commemorative HK7s NFTs as well as offering enhanced in-stadium experiences and challenges for fans.
Each digital collectable serves as an entry into draws which could be match tickets, seat upgrades and 7s memorabilia, or there are bids during the game for a chance to win a 7s match ball. There are 2-team and 4-team packs of digital collectables available to purchase.
HK Sevens say of their NFTs "Hong Kong Sevens Digital Collectibles provides the opportunity for rugby fans around the world to unite, collect, and trade unique rugby moments and assets. From the greatest moments in HK7 history to iconic art and imagery, fans will now have the chance to own a piece of the game's past to fuel its future and be part of a community that collects, trades and owns part of rugby history."
The first 1000 to sign up get a free commemorative HK Sevens NFT – no cost involved.
Cathay Pacific/HSBC Hong Kong Sevens 2022 News
---
Trending Now