Hong Kong Women XV Looking For Series Clean Sweep Over Kazakhstan
Posted On December 16, 2022
---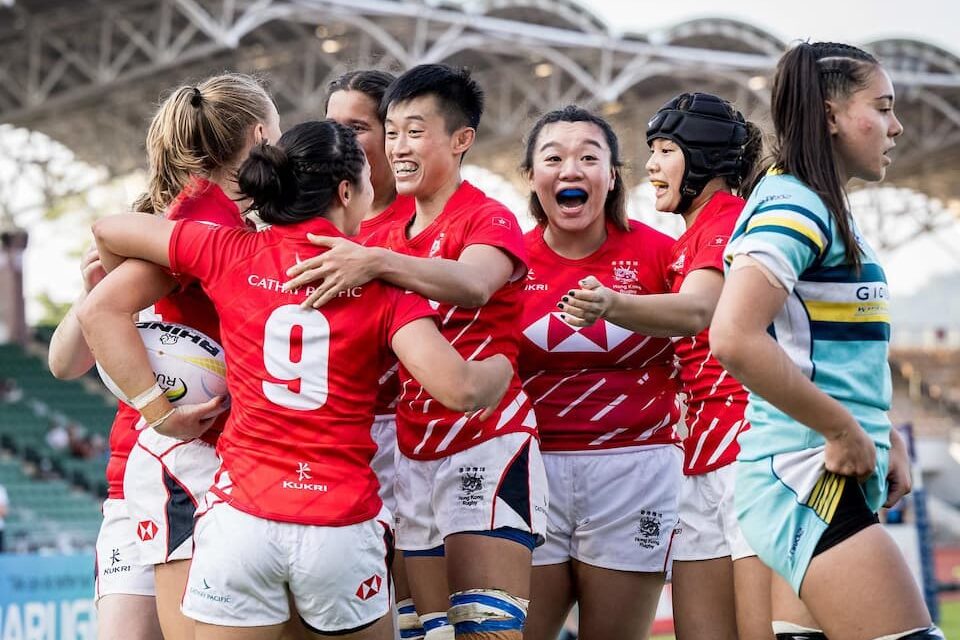 Following a confident start to the two-match series with a 31-17 win over Kazakhstan last Saturday at Siu Sai Wan, the Hong Kong Women XV are looking to secure a series clean sweep this weekend with the same squad selected.
The second match takes place at Hong Kong Football Club as Hong Kong faces Kazakhstan on Saturday 17 December at a later kickoff time 18.15 (HK time).  The change of venue as well as the weather could make this a more difficult challenge for the hosts but the HKRU coaching team is confident the players they have can get the job done in their final (and only second) international test match of 2022.
HKRU Women's XV Head coach Royce Chan Leong-sze said, "Last week we were playing in summer, this week we are playing in what is basically our winter. This is their weather. Football Club is also smaller than Siu Sai Wan, which is a wide pitch. This wet weather could be another variation that will force us to adapt."
The forward's dominance never really materialised in the first match for the visitors and HK matched their physicality, but the Kazakhs will be determined to put up a better fight and assert their pack, especially if the game is played at a slower pace due to the conditions.
Chan and her coaching team have opted to stick with the same squad that managed to get the job done in the first match although the starting lineup may see some changes.
"It hasn't been easy with selection; we thought a lot about different formulas and players and even reviewing our aims for the campaign after game one, but we are looking for wins in our first games at home in years," said the Coach.
"Many of the girls who played match one were making their first caps, others have not played fifteens in such a long time, including Natasha (co-captain Olson-Thorne), so we believe there is still more for them to show and that we can go up another gear still."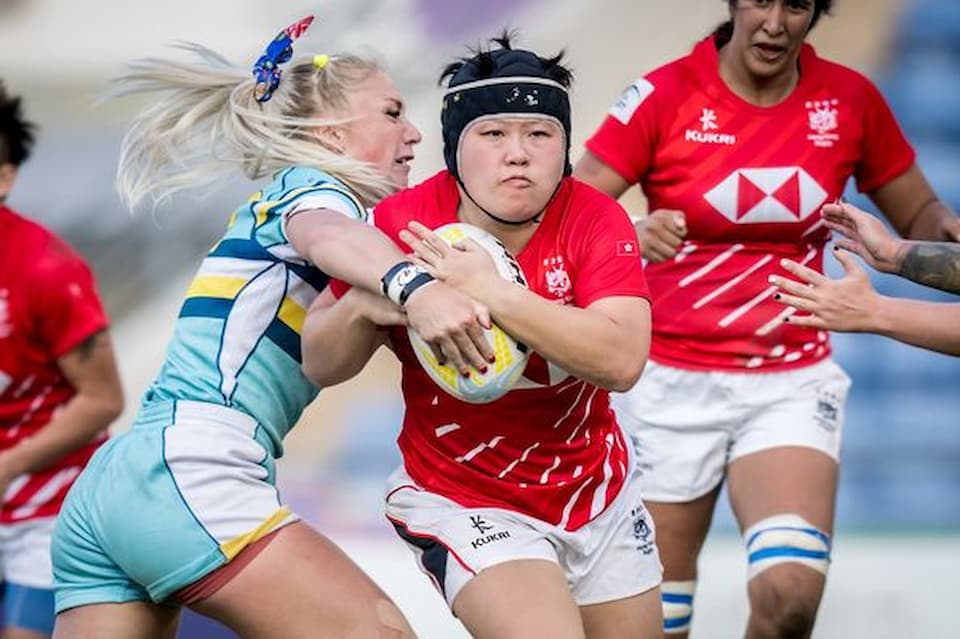 Although there was a small crowd supporting the match last week, it was unfortunately scheduled at the same time as the HKRU domestic Men's Premiership and Women's community game matches.
"Last week we still had games on in the women's community leagues. This week there are no games, so we hope to have big support at Football Club so we can show more as well" added Chan.
This is just the start for both Kazakhstan and Hong Kong Women's XV rugby after having played so few games over recent years and there are many new players in this Series. Both squads are building up to the Asia Rugby Championship 2023 (in which Japan will be hot favourites) and the WXV competitions beyond.
The first win last week also meant Hong Kong rose four places in the World Rugby Women's Rankings as a result.
For Chan, these matches have been about getting game time and building a squad "Good or bad on Saturday, we at least have our launch now. This group of players has been amazing. They have put up with so much disappointment in not being able to play for years and missing out on Rugby World Cup qualification. Even now, we do not have enough games or time in this campaign. The matches are back-to-back so there is not a massive turnaround or chance to use more of the group."
Hong Kong Women's XV Team – Match 2 (17/12/22) versus Kazakhstan:  
Forwards: LEE Ka-shun (co-captain); CHOW Mei-nam; Roshini TURNER; Fion GOT Yuei Tein; Iris LAM Tim-yeung; Chloe BALTAZAR; Micayla BALTAZAR; Maggie AU YEUNG Sin-yi; Agnes CHAN Tsz-ching; Ball NG Ki-sum; Duc LAM Tsz-yan; WONG Yuen-shan; Rosetti TSANG Hoi-laam.
Backs: Natasha OLSON-THORNE (co-captain); Jess HO Wai-on; Jess EDEN; Aileen RYAN; Vivian POON Hoi-yan; Zoe SMITH; Georgia RIVERS; Cherly SO Yee-kei; Sabay LYNAM; QIAN Jiayu.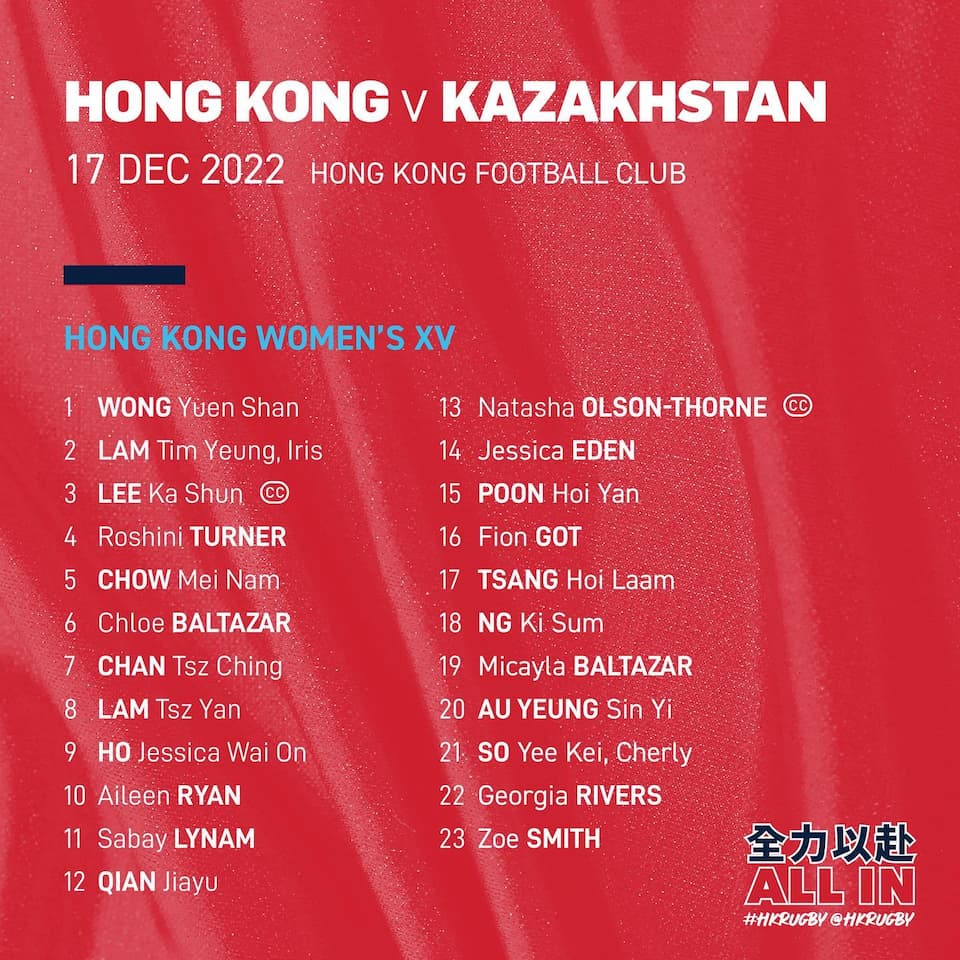 All Photo credits: HKRU
Asian Rugby News
---
Trending Now