Chinese Women's Sevens Rugby Aiming For A Strong 2023
Posted On December 16, 2022
---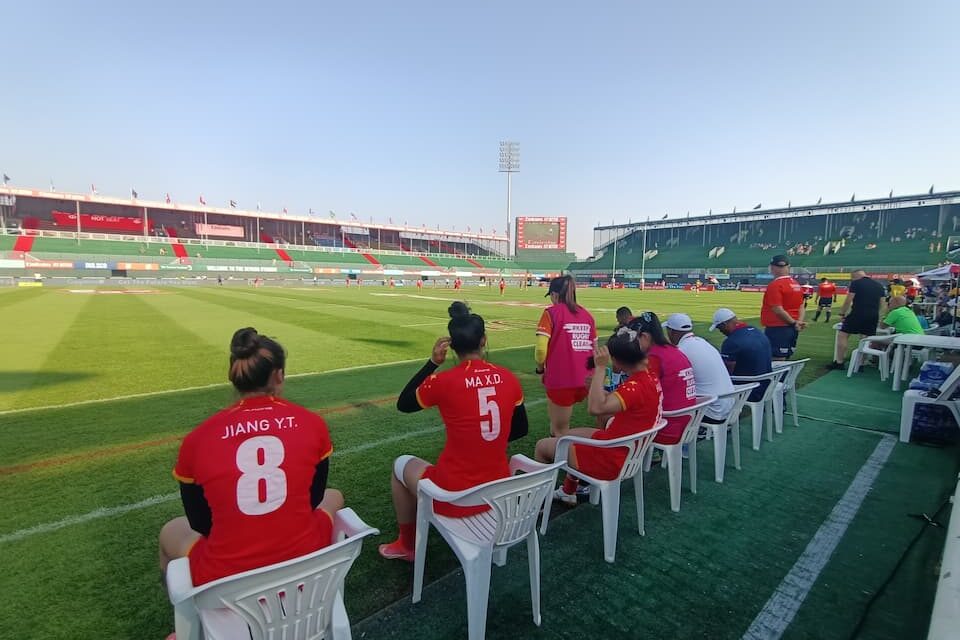 The Emirates Dubai Sevens invited the Chinese women's sevens side as the invitational team on the World Sevens Series Leg, and an injury-impacted squad who had just secured the Asia Rugby Sevens Series 2022 the week before, put up a great showing.
Ultimately they only won their final match, beating a current 7s core team, Brazil, but Head Coach Osea Kolinisau is confident of the team's direction and has big plans to make 2023 a memorable year.
You can read our review and results of the Emirates Dubai 7s 2022 here.
Chinese Women's Sevens Rugby – Emirates Dubai 7s 2022
How would you summarise this team's performances in Dubai at the Emirates 7s 2022?
Osea Kolinisau: We played with a lot of youngsters in Dubai as we had four of our starters injured in the final round of the ARSS the weekend before. So these 20-year-olds had to step up even though I knew they were not 100% up to tempo yet in training. But we had no choice with the injuries and it was good for them to experience this level.
We had our chances too, against big teams like Australia we were down 17-7 but we had opportunities but we didn't take them – and we had a lot of unforced errors too. Against the USA, we also had a lot of possession and more opportunities. The match against Canada was frustrating for me as a coach, we again didn't take the chances and we could have won.
On the positive side, I wanted more game time for all of the girls. So I think even though we had enforced changes, it's good they have been exposed to the level at the World Series and even though we lost we have gained a lot of experience against top-tier teams.
We are coming back next year with a fully-fit squad and I told the girls we are coming for the World Series. We have shown that we deserve to be here and will be coming back strong next year.
Since we last spoke to you at the RWC Sevens 2022 you achieved the goal of winning the very competitive ARSS 2022 over Japan – and you had a close tough game against them in Dubai – which has developed into a nice rivalry.
Osea Kolinisau: Yes, Japan is always a tough opponent and that team we played was Japan's A team and we pushed them hard even though we were missing those players I mentioned. We still have 4 Olympians with injuries too. So, I'm excited about our prospects next year and what we can achieve.
In Cape Town at the RWC Sevens, we were only three months in and now we have couple more months under our belts but we are still building and establishing this team.
The girls are getting to understand the way I want them to play the game. There were language barriers of course but now the girls can say "Ok, I know what the coach wants' so it's good to have that understanding and it does take time. I'm happy to see they understand how I want them to play and the direction we are heading. 
Chinese Women's Sevens Rugby – Building depth and Goals
Tell me about that squad depth, as you have the Challenger Series and Asian Games in 2023 – a lot to look forward to.
Osea Kolinisau: It's important to have a core squad so this weekend was important as it gave the youngsters a chance to play who don't get a lot of game time. It will only make us stronger in 2023 and it will give me a larger pool of players to select from.
I've always told the players that I will take the best players to each tournament and you can see after that final match there in our huddle it was a bit emotional as I know what these players have been through and what it meant to win that final match.
The girls started slow but kept fighting and I kept telling them when you are tired you have to fight. In the World Series, you have to think while fatigued, you have to tackle under pressure, and attack under pressure. It's something they have to get used to and in the World Series I'm thankful we were tested and it showed the girls they can win at this level.
I'm trying to change the mentality too. They think sometimes they are Chinese and look at these Australian, or New Zealand players that they are better than us, but I keep telling them we are the same human beings, and if you cut the flesh it's just blood, they are the same.
We are the same as the other tier-one teams and they need to believe in this.
I'd like to touch on that emotional side which was so visible here and I think when they won the Asia Rugby Sevens Series, and I'm not sure that is something people usually associate with the Chinese teams. Do you think this is the realisation the World Rugby Sevens Series is a place they should be?
Osea Kolinisau: I want them to enjoy their rugby and we should have fun while we are at it. 
We have to take these opportunities and I know they now can see and have the belief.  I have been telling them all along – "You guys can compete against any team in the world." Now they have a taste of it and it's not just "oh, coach says it because he has played in it because he played for Fiji".
Now I see their belief, and it takes time, but by next year we will be a force to be reckoned with.
We thought coming into this Sevens in Dubai your team might surprise a few sides, and they did, as they were competitive in every match. Can you explain the step up from the ARSS to the World Series – and what are the key work-on areas?
Osea Kolinisau: I think mainly the tackling and our reaction time. Especially with the tackles, the one-on-one tackles need to be really good, and you can see that with the top teams.
We are also too nice. I keep telling the girls "You know you can be more aggressive in the game. Shove the players out of the way if they are slowing it down and play"(He refers to the game management and tactics teams use at this level which his players need to learn).
After the match, we can be nice again and shake hands.
We also need to work on our communication and I've been saying capitalising on our opportunities. Be ruthless.
Kolinisau also told us that he had arranged for the whole team and management to have a month off from rugby so that they all could go home and enjoy time with family and friends, which he said was something the players found tough to believe as they don't usually enjoy such long periods of relaxation. He himself will head to the US to spend time with family over the festive season before returning in the new year.
The Fijian is changing the culture of the team and the Chinese Rugby Football Association and he understands with the goals and competitions ahead, rest and recovery are an important part of the process.
In addition, he has been working hard on negotiating for the squad to head to Fiji in 2023 to spend a month training and in camp and take part in a series of sevens rugby events which would be massive for the development of the players and the exposure to the levels of rugby they will get there.
Asian Rugby News
---
Trending Now