Southeast Asia Rugby Referees Network (SEARR.Net)
---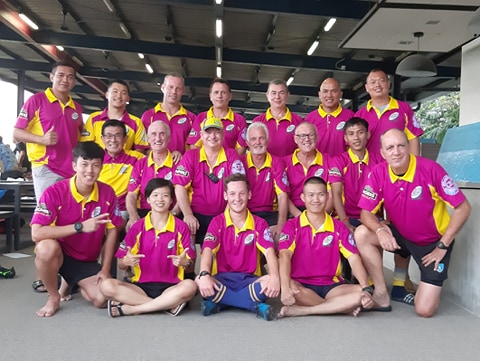 We sat down and spoke to several active representatives of SEARR.Net (Southeast Asia Rugby Referees Network), a group of referees who participate at numerous rugby tournaments throughout Asia but are based in the UK, Spain, US, Australia and scattered across Asia itself.
Rugby officials are, obviously, key to the game itself. Match referees and the AR (Assistant Referees), and if you are lucky enough to have TMO's (Television Match Officials), help facilitate the flow of the game and more importantly keep a check on the discipline from players and rugby teams to ensure as fair a result as possible.
As rugby fans and players discuss rugby games, match officials are often to bear the brunt of the criticism, something which no doubt has been part of the game for a while, but in the modern commercial era, sadly seems to be more prominent.
Many match officials at the social and grassroots level do so as volunteers, and without their passion and love for the game of rugby, these matches and tournaments in Asia would be near impossible.
What is SEARR.Net?
According to their own group, "The South-East Asia Rugby Referees Network (SEARR.Net) is an informal referees society providing support to events in South East Asia, and in particular, assisting those Federations who have yet to form their own referee society."
They have been operating in SEA for nearly a decade at various rugby matches and tournaments.
How did SEARR.Net come about?
Bruce: It came about from an idea of Greg Daniels who was one of our Phnom Penh referees and he felt we needed an identity (a group of match officials had been volunteer refereeing in the region for some time already). It was half a dozen guys with referees from Vietnam, Spain, London, New Zealand and Thailand. This was in about 2011. 
What we did was we each put some money in for the development of rugby. The needs of the tournaments we were attending, and the guys had been to a lot of rugby tournaments in SEA for over a decade, was to close the gulf in standards between what was available in SEA and the visiting referees. The gulf was significant between the standards being offered. We wanted to offer a way for tournaments to have a better standard of refereeing which also meant helping local referees develop. Also to prevent any cheating from home team refs which was happening.
I remember, we each had 3 shirts made; red, grey and white, and started we in Phnom Penh at the Angkor Tens and then we went to the tournaments in Chiang Mai, Bangkok, Vientiane, Saigon and Hanoi. We have also been involved with the Indochine Cup and the American Schools in Asia rugby tournaments.
It's been nearly a decade that the group has been active, so how many referees are involved in 2020?
Ian: There are some active and non-active members. We have people who have helped out at tournaments who have added value as an AR, or just assisting local referees.
And you are spread across the globe, so how do you interact?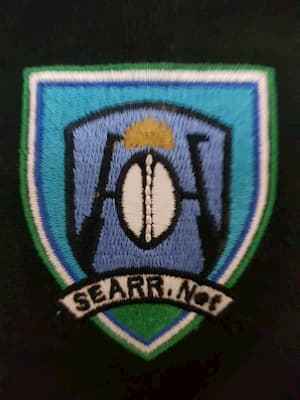 Ian: We have an intranet and we use tools like WhatsApp and FB to communicate.
Bruce: But we are a group of friends too and the friendship helps as well. 
John: What we might discuss, is quite often we will identify an incident from an international tournament, like the Six Nations or Super Rugby, and post a clip and ask each other for thoughts on the incident. And we are looking to learn from other peoples experiences – you will never get everyone agreeing on the same thing, and that is a good thing. Especially for young referees, they can learn very quickly from the experienced guys. Some of it is really simple but the experience in the group is invaluable.
Which referees are in the SouthEast Asia Rugby Referees Network?
In the group, collectively, there is a lot of experience not only in officiating but also coaching referees. So when you do ask colleagues based abroad to come, who have never been to Asia, what advice do you give to them about what to expect?
Ian: A different style of rugby of course. You come across pacific islanders, who have a different style completely and you might not experience that in England. Then you get faster Thais and Cambodians who are not typical 15s players but superb at Sevens rugby and they are tenacious and give it 100%. So everyone is going to learn something new.
Bruce: I think all referees that come out to officiate in Asia, they tend to find the game is played in a modern way, but it's like rugby from 15 years ago. There is a different attitude. In the UK you seldom have mass punch-ups now but it still happens here. Often it is the players who cause the problems but sometimes it's magnified by the referee's inability to control the game. 
As an organising person, I try to appoint referees for specific games at tournaments. If I think a game will be a big challenge, I will appoint the senior guys, as opposed to a new younger referee. The first two years when I went to the Bangkok 7s, you had NZ sides physically trying to hurt players and that had to be identified and stopped. It doesn't do the game or tournament any good; picking up a tens stone (60 kilograms) bloke and dumping him on the floor. So all of those things are considered. We all watch an awful lot of rugby and you watch and see what is happening or what is wrong. Sometimes, you have to put a word into the referee's ear or the captain's and say 'that's not acceptable."
It is all amateur and we don't want people in the hospital on a Monday, we want them on the plane heading off and having had a wonderful tournament.
Rugby referees and tournaments in Asia
Talking about the learning curve Asian rugby is on, and there are some big mismatches at some of the tournaments, player safety is a big issue. How much input do you have on the tournament organisation and officiating?
Ian: It's difficult as you can't stipulate everything with the organisers about allowing, or not, players or teams to play due to their quality or size. But we can advise on dirty teams. We had an instance at Bangkok Tens a few years ago when a Sri Lankan player punched a referee and we had input on that and the player was banned and the team was thrown out of the competition. We need to manage it in our own little way.
One of the benefits we give a tournament, like last year (2019) in northern Thailand, they wanted to try a new triangular rugby tournament which was a great idea but they had no referees up there. The TRU (Thailand Rugby Union) was not going to provide anyone, so I contacted the organisers and some of us were planning to be in the region anyway. So we had a referee from the group go referee the games.
So it gives tournaments an option of "oh who can we call, SEARR.Net" a group of SEA referees. 
When it comes to local Asian referees, how open are they to the advice and mentoring you spoke about?
Bruce: I think they want to learn. I have coached referees in the UK and sometimes it's a cultural thing in Asia. At the CFR (Cambodia Rugby Federation) tournament in February this year, there were referees walking and the image was wrong. If you project the right image, things tend to go right. I think that's where the huge failure is with some referees from SEA.
John: It's a chicken and egg scenario. Our problem with the referees in the region is, they are not getting enough games to referee. So we can't expect them to be at the same level as of some of us when we are refereeing week in and week out.
That's where it's a good symbiotic relationship; to bring some ideas about what we have learned and they can learn by osmosis, by watching and hearing sometimes. This will slowly filter through but only if we can continue to get local referees to these tournaments. One of my fears is we are pushing them out if we are a bit careful.
The tournaments themselves should actually have an onus on themselves to positively discriminate towards local referees (the percentage used) and maybe earmark them. Tournaments also need to speak to one another as each tournament now is a tournament in itself.  
We can all learn by experience and from what worked and what did not work well.
There is a big disconnect between the Asian Rugby Unions and these social rugby tournaments; tournaments clashing and the lack of information doesn't help either.
You have nations within Asia like Japan, Hong Kong, Korea who are at a higher level and there is a developing wave coming through from SEA and Western Asia. You have had officials come through from both sets of nations. Is there criticism that those developed rugby nations don't do enough to help the region improve?
Ian: I would say HK and Singapore are two of the better Unions. But they get more coaching and games and their quality is better.
John: But I think what RugbyAsia247 are saying is these Unions are not going out and doing more. Like go out and do an exchange, you send us your best and we will send you ours. And this happens in Australia and the UK. We are constantly swapping officials between states in Australia and with New Zealand.
Ian: And Asia Rugby should be responsible for that. But if you have Cambodia, which is not in Asia Rugby currently, but may be reintroduced. If they don't have a structure of teams throughout the country, how is the referee going to get any practice? They will be refereeing the same teams, and often their friends, which won't do them any good. We have seen in Thailand when the top teams are from the Navy, Army, Air Force and Police the referees sometimes won't make a call as their superior officer is in the team that is infringing. 
These are some of the underlying problems. 
(More tournaments are streaming now in Asia and these tools could be used as feedback to officials to review the games and criticism and improvements.) 
In terms of passing on the baton, are there any short or long term plans in how SEARR.Net will develop?
Ian: No, and it is something we are thinking about.
John: We don't get together as a group enough, so we should have an online presence and set some goals together.  We should look at that and what we as a group want to achieve. For example, we raise some funds for the orphanage here in Phnom Penh and it is an extra thing we do. Often if we do get money from a rugby tournament, it goes to some sort of charity work.
SEARR.Net donating in Cambodia

What do the SEARR.Net referees expect in return?
You all volunteer in your roles, what do you normally ask for on your end that a tournament organiser might be expected to provide, to have the services of SEARR.Net referees?
Bruce: We would expect organisers to provide accommodation for the number of nights of the tournament plus one (as we need to travel there). A reasonable amount of food. If we have spent a thousand pounds to come from one side of the world to another and we need to spend another few Pounds or Dollars on food, so be it. But it doesn't create a wonderful image or rapport.
John: We don't do it for the money but it's a trade-off. I will buy my flights and you pay for my hotel and some food. Maybe some transport. And some tournaments are better than others. Some clubs or tournaments let you down. It's often about the gesture.
Ian: Tournaments know what they are charging the teams to enter, so allocate a little of that to the officials to cover the costs. We are understanding and as the tournaments progress, they get better and we help with suggesting improvements.
What is your general feel-good factor about these tournaments you attend? Fights and things like that may happen but I also feel there are still more traditions at the SEA social rugby tournaments that might be disappearing in other parts of the world?
John: I would agree with that.
The rugby atmosphere and clan is definitely here in SEA and that's part of the joy I get. It's not just on the day. Certainly where I ref in Australia, you ref and go home. It's as simple as that, there is no social interaction and that's even between the teams, never mind with the officials.
Here, it's great to see on the last day, teams go drink together and be silly, and we like the silliness. I would even say the fights we mentioned, that's kind of gone in the past few years, I can't remember the last time we saw a full-on brawl. As the standard of rugby and refereeing has improved, then the attitude has changed. 
Ian: I remember one incident, we had one player turn up very drunk at a tournament and wanted to play and we refused to let him play. It might be he does the same things at another tournament and less experienced officials do let him play and he might hurt himself or someone else. Those issues and player safety are important.
John: And we all know each other and the teams know us. We are not Nigel Owens or Wayne Barnes, and the teams accept that and  (jokingly) we are equally bad for both sides.
Bruce: The fact that the tournaments are managed, and controlled better, and teams are more educated by the referees; that's the biggest impact SEARR.Net has had.
John: The local sides are playing good rugby and they might be smaller but they have adapted and the game is evolving and they know what their strengths are. Now they commit less to a ruck and move the ball wide. The standard has increased.
Women's rugby has blasted through the roof which is fantastic.
How can rugby tournaments organisers reach SEARR.Net?
Ian: Via the SEARR.Net group which is on Facebook. Sometimes it's through our network and being recommended, that is how we have spread into new tournaments, by word of mouth and we know each other as a group. We know who is capable and to what standard, and what standard the tournament needs. 
John: If they don't know us, they should reach out to Rod Colson, as he is based in Thailand and on the ground. Trevor Sharpe is another one who is active.
Even if we don't organise the officials ourselves, like at the Bangkok 7s, they might ask us for new officials and we can recommend them from the referees' societies in our countries like in England or Australia. The guys may not be SEARR.Net guys but they can offer value for a few years and we will give them the shirt and they are part of the group, You don't just turn up to a tournament and become a SEARRNET referee. 
You can try to reach the group here on Facebook.
RugbyAsia247 would like to thank John Stitt, Bruce Birchall and Ian Coltman for their time and the interview. A special thanks to Trevor Sharpe too for his role at SEARR.Net. We would also extend a thank you to all the match officials who make rugby possible.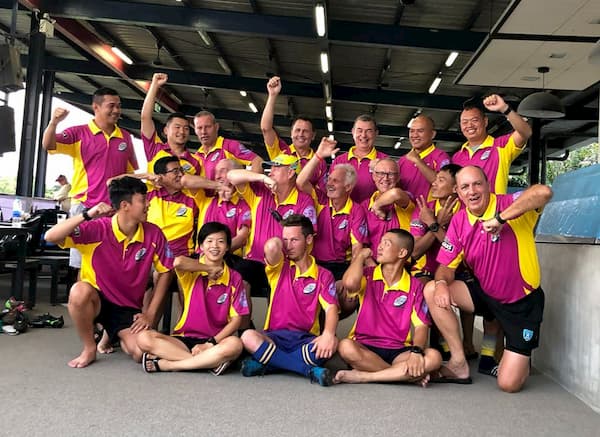 More rugby news from Asia
---
- Advertisement -

Trending Now