Asia Rugby Committees Structure 2020
Posted On December 31, 2019
---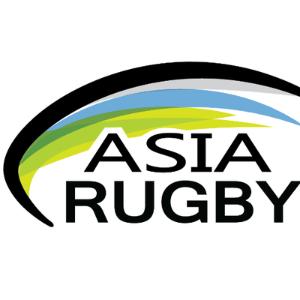 Asia Rugby this week announced their new Committees Structure for 2020, with the positions being held by members of Asia Rugby affiliated Unions and Federations from January – December 2020.
On a Facebook post, Asia Rugby said the committees were selected with the "Chairperson to select the balance of the committee members to help develop, govern and grow all aspects of Rugby across Asia."
Asia Rugby voted in its 2020 EXCO in November and the successful candidates are reflected in this new structure. The Asia Rugby Awards 2019 were also recently announced.
Asia Rugby Committees 2020
Although there was no additional information provided on the members selected to be on the committees or the actual roles, Asia Rugby does need to improve the structure to help develop the game across the region.
There are 9 committees in total, with each currently having three appointed members, a Chairperson and 2 Deputies. Each committee will in due course select additional committee members.
Asia Rugby has also been searching for a CEO, so it will be interesting to see how that role, once filled, will fit into this structure?
Administration and Finance
Chairperson: Mr Qais Al Dhalal – United Arab Emirates
1st Deputy: Mr Terence Khoo – Singapore
2nd Deputy: Mr Mike Haynes – Hong Kong
Development
Chairperson: Mr Vela Tan – Malaysia
1st Deputy: Mr Tanka Lal Ghising – Qatar
2nd Deputy: Mr Mohamad Jarkou – Syria
Competitions
Chairperson: Mr Asanga Seneviratne – Sri Lanka
1st Deputy: Mr Radityo Gambiro  – Indonesia
2nd Deputy: Mr Mahesh Mathal – India
Referees
Chairperson: Mr Mohamad Shaker – United Arab Emirates
1st Deputy: Mr Sung Hoon Park – South Korea
2nd Deputy: Mr Nizam Jamaldeen – Sri Lanka
Player Welfare and Medical
Chairperson: Mr Herman Huang – Chinese Taipei
1st Deputy: Dr Mutsuo Yamada – Japan
2nd Deputy: Dr Kelvin Chew – Singapore
Ethics and Governance
Chairperson: Mr Kakhramon Djalilov – Uzbekistan
1st Deputy: Mr Ghassan Hajjar – Lebanon
2nd Deputy: Mr Yudha Ramon – Indonesia
Judiciary
Chairperson: Mr Edwin Kung – Singapore
1st Deputy: Mr Ramesh Lachmanan – Malaysia
2nd Deputy: Mr John Stamper – United Arab Emirates
Women's Advisory
Chairperson: Ms Ada Milby – Philippines
1st Deputy: Ms Karina Soerjanatamihardja – Indonesia
2nd Deputy: Ms Nahid Biyarjomandi – Iran
Audit and Risk
Chairperson: Mr Fawzi Khawaja – Pakistan
1st Deputy: Mr Sunny Seah – Singapore
2nd Deputy: Ms Wang Xizi – China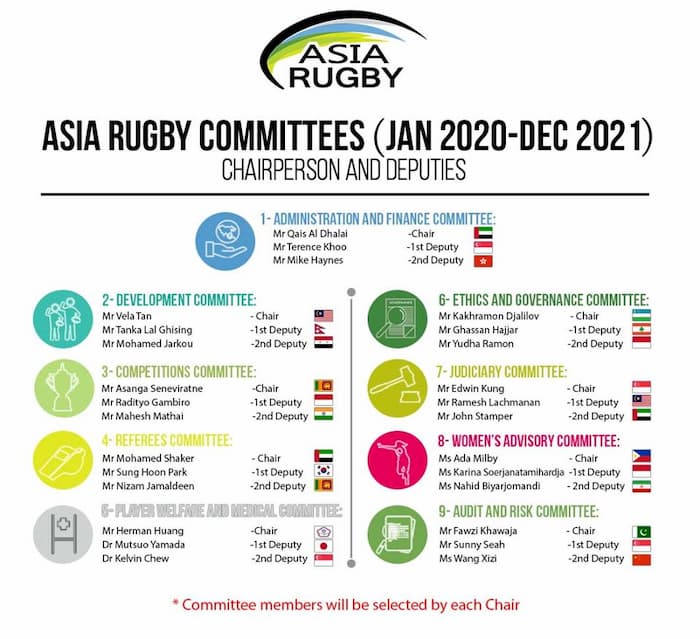 Read more on rugby in Asia 2020
---
Trending Now