Bangkok International Tens 2020: Teams Confirmed
Posted On February 23, 2020
---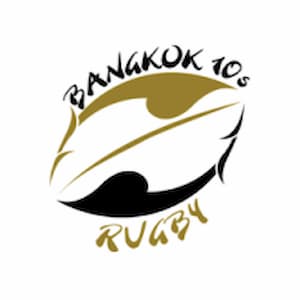 The Bangkok International Tens 2020 have confirmed most of the pools and teams playing at the social rugby tournament which helps raise funds for the Nak Suu Rugby Academy.
This 2-day rugby tournament runs from February 28th-March 1st 2020 and features Men's, Women's, Vets, Youth rugby as well as Touch rugby. In 2019 the Bangkok International Tens had a total of 44 adult teams registered as well as 36 youth teams.
A number of items are also being auctioned, follow the Bangkok International Tens FB page for more information.
*Updated 25th February – The organisers have posted updated pools and teams, initially also saying that Coronavirus was causing teams to drop out and pools to be rescheduled (their post has since been amended). Teams from Vietnam  (Saigon Geckos) were barred from travelling to the tournament. It also looks as if Japanese teams pulled out (Tokyo Gaijin, Bangkok Japanese, Nipon Oval, Gakushi Rugger Club etc).
This is due to the Ministry of Education (MOE) issuing several rules regarding Coronavirus (COVID-19). The rule requires any students or parents travelling to those countries to self-quarantine themselves upon returning to Thailand for 14 days. These included Malaysia and Vietnam.
"The Bangkok International Tens (BIT) committee is closely monitoring the spreading of COVID-19 and is adhering to the directive sent by the MOE. Furthermore, they have informed us that they will comply with all rules issued by the MOE.
In terms of how this will affect the tournament, the BIT committee is contacting the touring teams from the countries listed on the directive and informing them that they will need to withdraw from the competition."
Bangkok International Tens 2020 Pools
Men's Open: 16 teams (24 were initially planned)
Vets (Men over 35): 10 teams
Women's Open: 12 teams
Youth (multiple age groups): 42 teams
Touch Rugby: 10 teams
Youth games will run in the morning and adult games in the afternoon which include 6 youth age groups: Under 8, 10, 12, 14, 16 and 18.
According to Macoocoo, who do the live score updates of the rugby tournament, these are the pools for the Bangkok International Tens 2020.
Men
The Men's defending Cup Champions, PAC (Pig Athletic Club) were allegedly asked not to enter this year by the organisers after winning several Cup titles in recent years. However, another high-level club, organised by the tournament, Nak Suu Warriors, has been allowed to enter despite also reaching several cup finals recently.
There are rugby teams from a number of countries including Thailand, Singapore, Vietnam, Laos, Cambodia, Australia, New Zealand, UK, Japan etc.
Pool A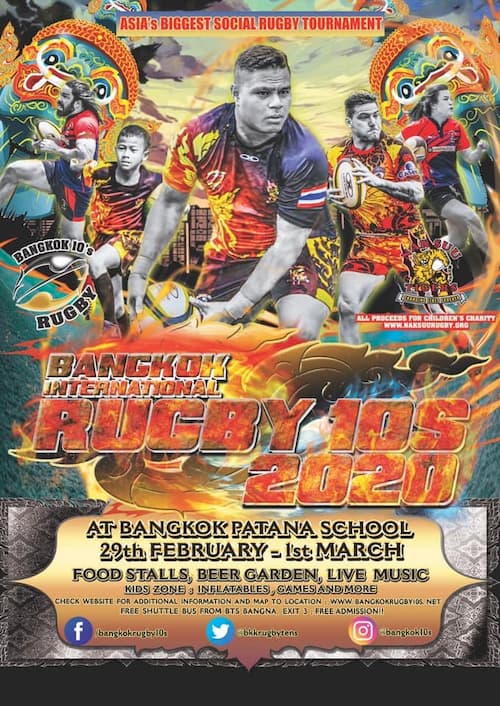 Nak Suu Warriors
Bush Turkeyz Rugby
Pattaya Panthers
Pool B
Jigsaws Rugby
Burewood Blues
Sumitomo RFC Thailand
Pool C
Jam Boys
OV
Royal Thai Navy
Pool D
Pakuranga Pumas
Aardvarks
Bangkok Japanese
Vets
The teams were reduced to 6 from 8 and now will be a round-robin format.
Pool A
Jam Boys
Bangkok Bangers Vets
Zarlequeens
Jigsaws Rugby
Southerner Old Boys
Colombo Synergy Rugby
Women's Rugby
Pool A
Banger Belles
Cambodia Rahus
Vientiane Lions
Balus Women's
Pool B
Vientiane Bufalletes
Southerners Ladies
RC Saint Paul La Reunion
SKF Mavericks
The two-day social tens rugby tournament will be live-streamed with commentary in English in 2020.
*We will update the article when more information is available.
Date: 29th February  – 1st March 2020
Venue: Bangkok Patana School Sports Complex, Thailand
The tournament is preceded by an opening ceremony at Ambar, on the roof of Four Points hotel in Bangkok on Friday the 28th February starting at 7pm.
Read about other social rugby tournaments in Asia
---
Trending Now