Manila Rugby Tens 2020 confirmed
Posted On August 14, 2019
---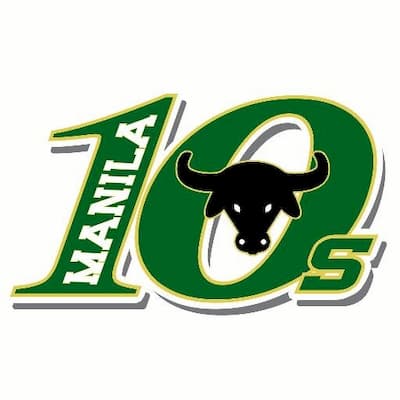 The Manila Tens organisers have confirmed the dates for the popular rugby tournament in 2020. The "World's Best Social Rugby Tournament" will run from 28-29 March 2020.
Update: 12th March
Manila Tens 2020 Cancelled
On March 12th the event was cancelled due to the coronavirus outbreak. The full statement from David Feeney, Chairman 2020 Manila 10s Organising Committee said:
Dear Teams. Sponsors. Contributors, and Supporters,
In compliance with President Rodrigo Duterte's Executive Order to suspend air, land. and sea travel in and out of Metro Manila from 15 March 2020 to 14 April 2020. and the suspension of mass gatherings. it is with great regret that I have to cancel this year's Manila 10s International Rugby Festival. We have tried to push through and host the tournament as planned despite some visiting teams withdrawing their participation.
With the escalation of COVID-19 cases in Metro Manila, the cancellation of most, if not all, sports events and mass gatherings, the Philippine President's declaration of a State of Public Health Emergency, and the World Health Organisation declaring a pandemic. we felt it better to err on the side of caution and call off the tournament.
And although the suspension of air travel is subject to daily review, there is just too much uncertainty in terms of flights going in and out of the city.
While this is far from ideal – so close to kick-off – and although most visitors will most likely be in the low-risk bracket. I also feel that due to the international nature of the Manila 10s it would be reckless to risk players, staff, and supporters possibly being infected during the weekend and then returning to their home cities. provinces and countries potentially spreading the virus to those more vulnerable.
Know that this decision has not been taken lightly. We realize and appreciate the work and resources you have put into this tournament and I hope you understand our reasons. The organising committee will meet to discuss possible postponement till later in the year or cancellation of the 2020 tournament altogether. We will get back to you once a decision has been made.
Do stay safe, thank you, and we hope for your continued support of the Manila 10's.
Where will the Manila Tens 2020 be held?
The two-day International Rugby Festival will be held at a new venue; Alabang Country Club, Ayala Alabang Village, Muntinlupa, Metro Manila in the Philippines. The Manila Nomads organise the tournament.
In 2019 the tournament was held at the San Lazaro Leisure Park, Manila Jockey Club.
There are 4 divisions for the rugby 10s tournament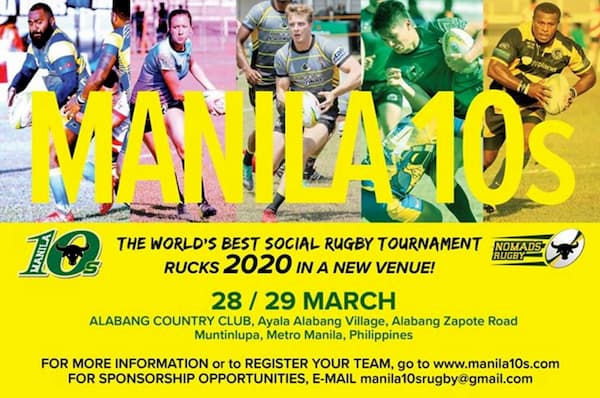 Cup / Elite Men's
Open / Social Men's
Vets (all players must be aged 35 or older) Men's
Women's
How to register for Manila Tens 2020?
The 2020 tournament will be 32nd edition. Teams can register online www.manila10s.com
Manila Tens 2019
At the 2019 edition of the Manila Tens, a lunch event took place with former Wallaby (Matt Cockbain) and All Black (Anthony Boric) as guest speakers.
The tournament itself saw a number of rugby teams participate:
2019 Winners:
Women's
Women's RU: Lady Eagles
Women's W: Makati Lady Mavericks
Veterans
Vets RU: Taipei Baboons
Vets W: Fiji Golden Oldies
Men's
Shield RU: Albay Bulkans 

Shield W: Samurais 
Bowl RU: Makati Chiefs B 
Bowl W: Makati Mavericks 
Plate RU: Taiwan Giants RFC 
Plate W: Clark Jets 
Cup RU: B2Gold Larrikins

Cup W: Makati Chiefs A
A number of tournaments have now confirmed their dates for 2020 including the HK and Singapore Sevens, Vientiane and Hanoi Tens, Bangkok Tens, Phuket Tens and more.
Venue: Alabang Country Club, Metro Manila, Philippines
Date: 28-29 March 2020 (event cancelled)
Rugby in Asia 2020
---
Trending Now