Hong Kong Have Sights on RWC 2023 Qualification
---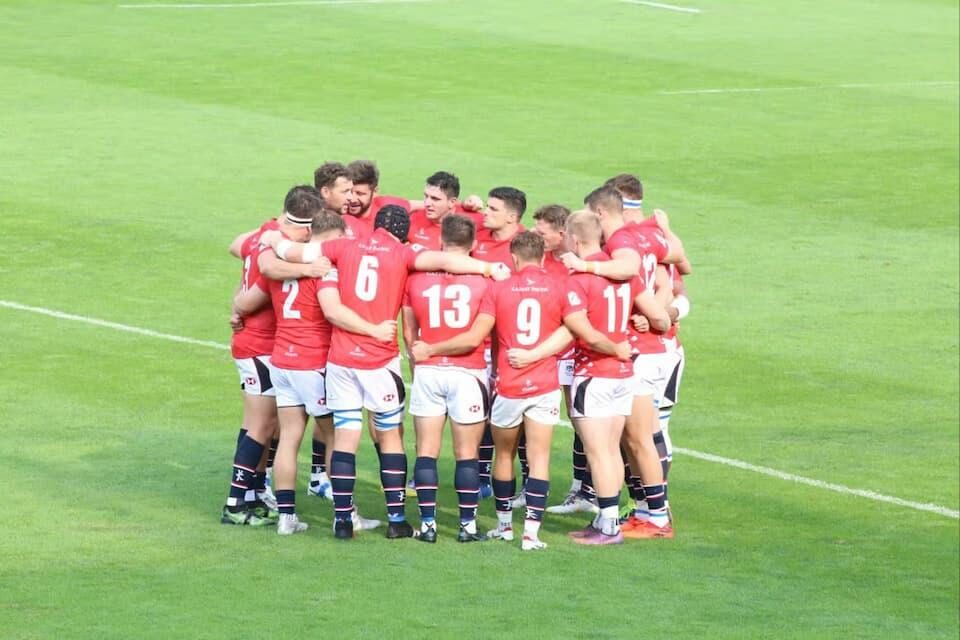 On Saturday 23 July 2022, the Hong Kong Rugby Union Men's XV national team could be writing themselves into the history books if they manage to overcome a formidable Tonga team in the one-off Asia-Pacific RWC 2023 Qualifier – which will be played at the Sunshine Coast Stadium in Australia.
Whatever happens, the loser of the match will still have one more crack at Rugby World Cup 2023 qualification as they will enter the Final Qualification Tournament which includes the USA, Portugal, and Kenya, and will be played in November 2022 in a round-robin tournament with a venue still to be determined.
Feature Photo Credit: Asia Rugby
Odds stacked against Hong Kong RWC 2023 Qualification?
Hong Kong claimed a nervy and exciting Asia Rugby Championship (ARC) 2022 title by beating Korea in Incheon by a single point, a result which seemed unlikely when the visitors were down to 14 players within the opening minute. The fact the HK team stood firm and snatched a last-minute win is a testament to an amazing number of obstacles and challenges the coaching and playing squad have had to overcome to earn this opportunity to stake a spot at RWC 2023.
Although some media outlets are writing the Hong Kong team off, they are facing Tonga, who despite the inclusion of a number of star players freshly available due to the World Rugby eligibility changes, have themselves lost all three matches in the Pacific Nations Cup over the past few weeks against Samoa, Fiji, and Australia A.
HKRU Head Coach Lewis Evans told Rugby Asia 247 "It is daunting in some respects but this group of players are very excited to get out there and very keen to play against some of the best players in the world and it's something some of these guys have been dreaming of for a few years."
Squad Belief – HKRU Men's XV
There is unshakable confidence in the HK squad, and Evans told us from their base camp on the Australian Gold and Sunshine Coasts that the belief was evident in the gutsy win over Korea in the ARC.
"I said that our first 40 minutes against Korea showed our potential with the tries (mentioning that one of the tries was touched by 7 players in the process of being scored) and it demonstrated that we have the attacking ability in our team. The second half showed resilience when we had to dig in and the ability to stay switched on and belief" added Evans.
The young coach, with his management team, has had to deal with so many hurdles in getting a squad ready, overcoming COVID and logistics complications, and producing a result with a number of players unavailable but many have stood up and there is a unity in the squad.
He told us, "I joined the process very late but the boys have been very passionate about making sure the Asia Rugby Championship went ahead. I joined in one of the later chapters in this journey (to try reach RWC 2023) and to be a part of that, and then another chapter here in Australia is slightly overwhelming at times."
Hong Kong Men XV Set Sights on ARC 2022 and RWC 2023 Play-off match
Leadership Group
The playing squad has undergone so many changes over recent months, and several players are based overseas, while the team introduced new caps for the ARC which is giving the coaches enviable selection headaches. 
"The support and the leadership group have been important, they have been integral on and off the field. We presented 8 caps at the post-game function in Korea, so there is that blend of experience.
We have a good atmosphere and environment, and we trust the guys completely with decisions on and off the field", said the Head Coach.
"You know, when I have a second row coming up with plays – that's music to my ears as a forwards coach. Even watching Ireland vs New Zealand and Australia vs England games over the past weekend together, players were making notes and suggestions of plays that might work for us against Tonga. They are switched-on individuals and are clever guys; they watch rugby, and they love their rugby.
We know Tonga will be ferocious with the ball carrying and spot blitzing so we know we are going to feel that heat."
Rising to the Occasion – RWC 2023 Qualification at Stake
Evans added that the pressure is exciting: "There is pressure to perform as we realise we are capable and we put pressure on ourselves to perform – as we know we have the personnel to perform at the highest level.
It's down to us now to turn up on Saturday and it's our job as coaches to ensure they are prepared mentally and physically from a game management perspective, and the players have done their own work."
Although the availability of players has been a challenge, the team is excited for the next step of the piece of this journey and the coach admitted that the team's attitude has been phenomenal and that "the opportunity to kick on and try qualify for the RWC 2023" is one they are excited by.
Legacy Impact and HKRU Programmes
Jo Hull, General Manager at HKRU also told us from the camp "we had to rebuild our programmes, where we are identifying what the performance platform looks like for us in the future, and in particular finding HK qualified players that will help us keep a sustainable platform."
She added that in terms of the big picture: "We have our national men's XVs here, the two sevens teams just returned from Portugal and the men's sevens team head to Chile (Challenger Series) and then the RWC 2022 in South Africa which is fantastic. We also have the Asian Rugby Sevens Series, hopefully, the Hong Kong Sevens, and the Women's XVs ARC, as well as the U19 Boys ARC later this year to prepare for."
Damon Murphy (Australia) is the match referee and previously refereed Hong Kong on his test debut in a Rugby World Cup 2019 qualifier but takes charge of Tonga for the first time.
The winner of the match will join Pool B at RWC 2023 with South Africa, Ireland, Scotland, and Romania.
The game against Tonga will be played at the Sunshine Coast Stadium at 5:30 PM local time.
Hong Kong Matchday Squad RWC 2023 Asia-Pacific Qualifier
Hong Kong mad six personnel changes from the starting line-up that beat Korea in the ARC 2022 title-winning match. Gregor McNeish starts at fly-half in the absence of Glyn Hughes, and Guy Spanton is named on the wing in place of the suspended Charlie Higson-Smith.
Gregor Ramage and Will Panday could both make their test debuts off the bench.
1. Callum McFeat-Smith, 2. Alexander Post, 3. Faizal Solomona, 4. James Cunningham, 5. Patrick Jenkinson, 6. James Sawyer, 7. Luke van der Smit, 8. Josh Hrstich ©, 9. Jack Combes 10. Gregor McNeish, 11. Guy Spanton, 12. Tom Hill 13. Ben Axten-Burrett, 14. Matt Worley, 15. Nate DeThierry, 16. John McCormick-Houston, 17. Ashton Hyde, 18. Iain Etheridge, 19. Jamie Pincott 20. Kyle Sullivan, 21. Gregor Ramage, 22. Bryn Phillips, 23. Will Panday
Tonga Matchday Squad RWC 2023 Asia-Pacific Qualifier
Tonga welcome back captain Sonatane Takulua after the scrum-half missed the match loss to Australia A in the final round of the World Rugby Pacific Nations Cup.
Takulua is one of only two changes in the backline, which also see Telusa Veainu comes in at full-back, with two changes in both the front row and back row.
Match Permutations
According to World Rugby:
Tonga cannot improve on 16th place, while Hong Kong start the macth places 21st in the World Rugby rankings.
Hong Kong will fall one place to 22nd (dropping below Chile) if they are beaten by more than 15 points.
Tonga will fall at least two places if beaten by Hong Kong.
A defeat by more than 15 points would see Tonga fall four places to 20th – equalling their lowest ever ranking, a position they haven't occupied since May 2006
Hong Kong cannot improve on 21st place even with an emphatic win but could close to 0.76 rating points of Tonga above them.
How to Watch the Asia-Pacific RWC 2023 Qualifer – Tonga vs Hong Kong?
The HKRU has announced that Cluch.tv has acquired the rights for the RWC 2023 Qualification game and for fans within Hong Kong can watch for free if they sign up for the stream here.
World Rugby has confirmed the other streaming options for all regions are:
Stan Sports (AU)
Sky Sports (NZ)
Digicel (Pacific Islands)
Cluch.TV (all other markets – there are three options depending on your region Free/$NZD: $3.99 /USD: $7.99)
Asian Rugby News
---
Trending Now