ITF Tag Rugby World Cup 2022
Posted On September 30, 2020
---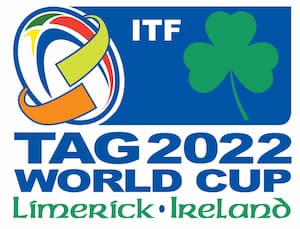 The International Tag Federation (ITF) has confirmed that the dates of the Confederations Cup and Tag Rugby World Cup have been moved due to COVID-19.
The ITF Tag Rugby World Cup was due to take place in 2021 but has been pushed back a year to run from 31 July – 6 August 2022 in Ireland. The ITF had earlier in 2020 decided to cancel the Confederation Cup which was due to be hosted by the University of Limerick in August 2020 but it has now been reinstated for 2021.
A statement from ITF in September 2020, said: "The International Tag Federation (ITF) Board met (via Zoom) to discuss the implications of the COVID-19 pandemic on Tag around the world and how the current situation will impact the delivery of the Tag World Cup 2021 to be held at the University of Limerick in Limerick, Ireland in August 2021.
With the current uncertainties in this regard, all Board members agreed on the need to postpone the Tag World Cup 2021 and to host the event from the 31st July – 5th August 2022."
The International Tag Federation now looks forward to hosting the Confederation Cup in Limerick in 2021 and the Tag World Cup in 2022 added Stuart McConnell, ITF Chairman, on behalf of the ITF Board.
UPDATE
In July 2021, it was confirmed the Tag World Cup would be moved to 2023. Read more here.
ITF Tag Rugby World Cup
The previous Tag World Cup was held in Coffs Harbour, Australia in 2018. The ITF FB page confirmed that the 2022 ITF Tag Rugby World Cup will be the first to be held in the northern hemisphere.
Irish Tag Rugby was awarded the hosting rights of the next Tag World Cup in February 2019 – You can read more here about what we previously reported.
The competition will involve various age categories in men's, women's and mixed divisions. According to the organisers, teams need to have registered through their national federation to compete.
Which teams could compete at the ITF Tag Rugby World Cup 2023?
The following Member Nations were invited to participate in the Tag World Cup (in 2021 before the change of date announcement was made). The World Cup will be hosted by the Irish Tag Rugby Association at the University of Limerick, Limerick, Ireland.
The 2022 Tag World Cup age group divisions:
Women's 21s
Women's Open
Women's 30s
Women's 40s
Men's 21s
Men's Open
Men's 30s
Men's 40s
Men's 50s
Mixed Open
Mixed Seniors
Possible nations invited to participate at the ITF Tag Rugby World Cup 2022:
In total 34 nations were invited to the originally planned ITF Tag World Cup in 2021. The list features a number of Asian teams, with many based in Australia. The Asian representation includes China, Hong Kong, India, Japan, Korea, Philippines, Sri Lanka, Thailand and Vietnam.
American Samoa
Aotearoa Maori (New Zealand)
Australia
China (Australia based)
Cook Islands (NZ / Aus based)
Cyprus
Fiji (NZ / Aus based)
France
Great Britain
Greece
Greece (Asu based)
Hong Kong
India (Aus based)
Indigenous Australia
Ireland
Italy (Aus based)
Japan
Kiribati ( Aus based)
Korea (Aus based)
Lebanon (Aus based)
Malta (Aus based)
New Zealand
New Zealand Barbarians
Niue (NZ / Aus based)
Papua New Guinea
Philippines (Aus based)
Samoa (NZ / Aus based)
South Africa
Sri Lanka (Aus based)
Thailand (Aus based)
Tokelau
Tonga (NZ Based)
USA
Vietnam
ITF Tag Rugby World Cups Hosts
New Zealand (2012)
Australia (2015)
Australia (2018)
Ireland (2022)
ITF Tag Confederations Cup Tournament 2021
The decision from ITF means that the Confederation Cup will be reinstated and will be hosted at the University of Limerick in August 2021, instead of 2020 as originally planned.
ITF sanctioned events for 2021 – 2022
Below is the latest list of International Tag Federation sanctioned events from 2021 – 2022.
What is Tag Rugby?
Tag Rugby is loosely based on Rugby League but has minimal contact. All players wear shorts with velcro patches with two tags attached to them. Each team has seven players and each team has six tags to try and score a try (similar to touch rugby).
The field dimensions are 70m by 50m, and the tries are worth one point and there are no conversions. In mixed Tag Rugby, female tries are worth three points.
ITF Tag Confederations Cup 2021 Dates
Venue: University of Limerick, Ireland
Date: TBC August 2021
ITF Tag World Cup 2023 Dates
Venue: University of Limerick, Ireland
Date: TBC 2023* Updated
Read more about touch and tag rugby in Asia
---
Trending Now