Cambodia Rugby Federation: Looking to a brighter future?
---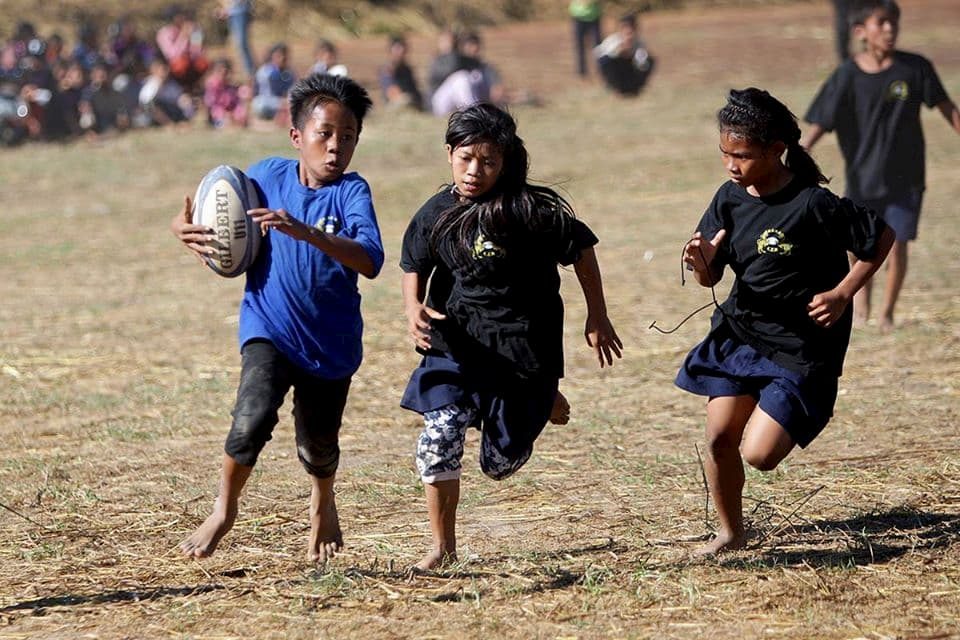 The Cambodia Rugby Federation (CFR) was re-instated to Asia Rugby in July 2020, after a four-year hiatus, previously having its membership from the regional governing body removed for not complying with certain criteria. We spoke to the Federation Rugby Development Manager, John Mojsa, to find out how the rugby organisation has changed and what its goals are.*
History of Cambodian rugby
Like so many Southeast Asian nations, rugby was introduced by expatriates into Cambodia. There are reports rugby was played in the Kingdom by French colonialists before it achieved independence in the 1950s. Post-Khmer Rouge, which decimated the nation, rugby was re-established in the 1990s.
The first known club was the Rugby Club du Cambodge which was set up in 1998, and its senior team was known as Les Piliers d'Angkor. In the following year, the Indochinese Cup (Indochine Cup) was established initially with Vietnamese teams from Saïgon and Hanoi, Vientiane (Laos) and Phnom Penh in Cambodia.
In 2000, the NGO, "Pour un Sourire d'Enfant", started coaching rugby, with players from Rugby Club du Cambodge coaching the impoverished Khmer youths. There were national competitions in 2000 and the Angkor 10s (now called the Cambodia Tens) was first played in 2001.
In 2002, Tan Theany, the secretary-general of the Cambodian National Commission for UNESCO, formed the Cambodian Federation of Rugby (CFR) as the first President. She is still the acting President of the CFR today.
In the years since, many rugby clubs have come and gone in Cambodia, and national championships have been revised in different formats. The national men's team competed in the Asia 5 Nations Championship (now called the Asia Rugby Championship), even hosting tournaments in Phnom Penh.
Club teams such as the Garudas, Phnom Penh Social Rugby Club (PPSRC) and others formed after 2015, while Kampuchea Balopp was started in 2013 and is an NGO that uses rugby and sports for youth development.
Cambodia Rugby Federation
Cambodia Rugby 2002-2013
The CFR, as mentioned, was formed in 2002. In 2003 as many as eight junior teams competed, and a domestic sevens senior competition was established with over 100 players participating during the 2004-2005 season.
The first time a Cambodian team was sent overseas, was to the Bangkok Sevens in Thailand in 2004. For a decade, rugby in Cambodia grew, with NGO's (Non-Governmental Organisations) and schools being introduced to the sport by members of the CFR and volunteers.
Cambodia Rugby 2013-2015
As recently as 2013, there was a national championship with four senior teams in Cambodia, including PSE (Garudas), a team from Siem Reap, Stade Khmer and the Sisowath Knights. This was the last time an inclusive national championship was contested before the CFR was removed from Asia Rugby in 2016.
During the period from 2005-2013, rugby had grown with Cambodians and foreigners working together, arranging for training and coaching sessions with members of the IRB (now World Rugby) and Asia Rugby, and several notable international stars even visited the country to promote the game.
These visitors to Cambodia include Gavin Hastings (former Scotland and Lions international) in 2013. At the time the CFR had development officers who were broadening the appeal of the game and encourages social inclusion. Even then, the CFR had met with the Cambodian National Olympic Committee to discuss having an office in the NOCC building and the "prospect of a Rugby Sevens Olympics side (a team of seven will be selected from the current national team of 15 players)."
However, between 2013-2015 the CFR was in some strife. Several key members of the governing body were let go and poorly treated, and a disgraceful end to the 2013 championship final saw the losing team throw bottles and cans at the winners, Stade Khmer, at the trophy awarding ceremony in Phnom Penh.  This was followed by a failed attempt to have democratic elections and a new board setup within Cambodia followed by the Asia Rugby decision in 2016 to expel the CFR.
Cambodia Rugby 2015-2020
From 2015, clubs like the Phnom Penh Social Rugby Club were set up to allow for rugby to continue to be played in a social capacity, as the CFR was not running national tournaments and had stopped running the Angkor Tens, which was taken over by Kampuchea Balopp (KB).
KB continued with youth rugby development working with a dozen or more NGO's and schools and still continues to do so today.
The CFR still was running domestically and sent a men's sevens team to compete at the SEA Games in Kuala Lumpur in 2017. They ran smaller national competitions of varying quality but with limited funding and backing.
However, the CFR organised the Champion Nation Rugby sevens tournament in 2019, with the support of the Ministry of Education, Youth and Sport and the National Olympic Committee of Cambodia. The CFR engaged more with government bodies to try to get the rugby programs back on track, also as the country is due to host the SEA Games in 2023.
In July 2020, the CFR was readmitted to Asia Rugby as an Associate Member.
The annual Cambodia Tens is still run every year, mainly expat teams are involved from the region and further afield, with some Cambodian based clubs participating.
Cambodia Rugby and Asia Rugby 2020
We spoke with John Mojsa to get his views on the Cambodia Rugby Federation in 2020 and what the future holds.
What do you feel has changed with the CFR since it was expelled from Asia Rugby a few years ago? What has been implemented to allow for the Federation to rejoin Asia Rugby?
Our time away from Asia Rugby membership gave us time to re-evaluate, restructure our board and ultimately get more people involved who were clear on CFR's goals. That achieved the goals quicker. This restructure has fast-forwarded our growth over the past 4 years and now we are excited to reach a new level where we are back in the Asia Rugby family as Associate Members.
We have had a lot of excellent guidance from the National Olympic Committee of Cambodia, ChildFund 'Pass It Back' & of course, Asia Rugby, which has helped us implement new strategies for growth.
There are concerns that some of the CFR board, including the President, are the same as when the CFR was last removed. What is the makeup for the CFR board now and what are its main goals?
I am not sure where this concern comes from as no such remarks have been brought up by the Asia Rugby board and all people involved in the CFR are happy with the current board since it was voted at the 2019 AGM. In the vote, we had a new Vice President, New Executive Board Members & a new Rugby Development Manager which has definitely brought fresh ideas and more firepower to the board.**
Our main goals are now to create a solid foundation for CFR to work from, we are looking to bring in new sponsors so we can be financially independent as we grow, more finances are needed to hire staff, rent fields and buy equipment etc. We plan on doing more competitions and work with more NGO's and schools so rugby is more accessible across Cambodia.
Finally, continuing strong partnerships with Asia Rugby, ChildFund 'Pass It Back' and our sub-region countries to have more opportunities for our players to participate in Rugby.
**These concerns were raised when we spoke to previous CFR Board Members and players who have been involved with the organisation over the years, not by Asia Rugby. The same President, Madame Tan Theany, has been at the helm since 2002.
CFR Strategy
Is there is a strategic plan in place at the Cambodia Rugby Federation and what does it involve?
Yes, we have a strategic plan in place which we are excited about implementing. Of course, COVID-19 has slowed down the progress of our initial plan but we are excited to now start slowly getting back safely into the plan and follow the government guidelines.
2021 is looking very promising with our partnership with ChildFund 'Pass It Back' kicking off once the pandemic is over. We currently have weekly check-ins with the team from ChildFund 'Pass It Back' and are progressing what we can in the current situation.
In 2020 we had Benjamin Van Rooyen, Rugby Development Consultant of Asia Rugby leading a week of rugby classes which allowed 20 of our players to get coaching qualifications such as World Rugby Level 1 7's and 15's. We already have potential plans for him to return in 2021-22 to do level 2 in coaching, refereeing and S&C (Strength and Conditioning).
SEA Games Cambodia 2023
How is the CFR planning to grow the game and have competitive teams before the SEA Games in 2023?
Once the pandemic is over, we want to return back to our monthly domestic tournaments which include adult, youth and adaptive rugby. On top of that, we have plans to incorporate touch rugby into more educational institutes.
With our new partnerships with Asia Rugby and ChildFund 'Pass it Back' we are aiming to have a lot more participants which can only help with a higher standard of rugby in the country.
The local rugby scene is fragmented with CFR registered clubs, social clubs and NGO's promoting the sport. Does the Cambodia Rugby Federation have any plan to unite the rugby community in Cambodia, and how would it do this?
Of course, we do want to unite the sport and as part of our strategic plan we will be reaching out to the social clubs and NGO's to work on proactive cooperation to help grow rugby together in Cambodia. The slogan of Asia Rugby president Qais Al-Dhalai is "We can do better but together" is something we are embodying and want to work on
should the other parties also want to cooperate?
Cambodia Rugby Federation Plans
What are the plans for 2021 in terms of domestic and international Cambodian rugby leagues and tournaments?
We have our monthly domestic league pencilled in the schedule and we are in communication with some of our subregion Asia Rugby members regarding international tournaments which we hope to cement in place after the pandemic is over.
(Asia Rugby has confirmed no international tournaments will take place in 2020 due to the COVID-19 pandemic).
Any other comments you would like to share?
We would like to send our thanks to Asia Rugby President, Qais Abdulla Al Dhalai for supporting and guiding us over the past few years and helping us achieve our goals. We are excited about the future of rugby in Cambodia and hope to see everyone on the field safely soon.
We would like to thank John and the CFR for their time to respond to the questions.
List of rugby clubs and organisations in Cambodia:
Editors Comments
*For full disclosure, as the writer and editor of this piece – I have been based in Cambodia for 7.5 years and have had dealings with the previous CFR Board and the current one. In addition, I have worked with Kampuchea Balopp and helped set up the PPSRC and tournaments in the country. I also have spoken to numerous players (Cambodian and expat), previous CFR Board members, as well as sponsors about the state of rugby in Cambodia.
We also wrote to Asia Rugby asking to clarify what any Asian Rugby member criteria are for joining as a Member and what will be assessed, but we have had no response.
There are other issues to resolve too, ranging from payer welfare, transparency, eligibility to play in the domestic leagues, lack of match officials etc but let's hope the future of rugby in Cambodia is a unified and bright one.
Asian Rugby News
---
Trending Now