Social Chinese Rugby in 2021
---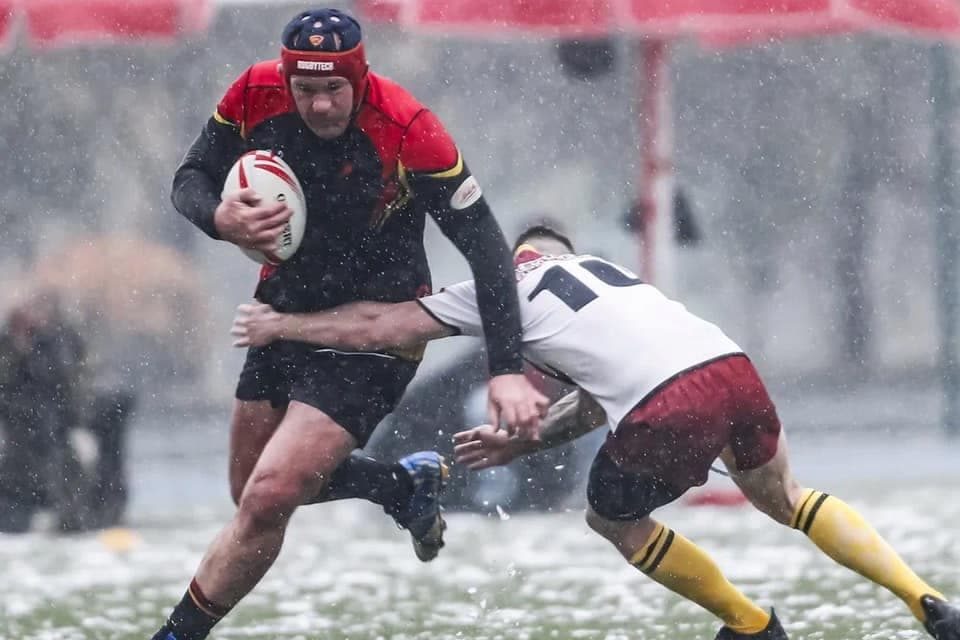 With more and more games, tournaments and rugby union leagues being confirmed in China, we look at the social Chinese rugby scene in 2021 and what is confirmed to be going ahead.
With the global COVID-19 pandemic wrecking most of the 2020 season, a number of rugby clubs in China are also looking for new players for the 2021 season and beyond. We will update the clubs and tournaments section as more information becomes available to us.
(Feature Photo Credit: Beijing Devils RFC)
You can also read our Guide to social rugby in China which we will update in due course. (If you are organising rugby tournaments or clubs in China – we would love to hear from you!)
Beijing Cup 2021 Rugby
The rugby cup in the Chinese megacity of Beijing kicks off on March 20th, 2021. There appear to be six clubs involved in the Beijing Cup 2021.
The first round of games are as follows:
In 2020 these clubs were also involved: Beijing Brothers & Beijing Haugan. We are not sure if they are still active or will be participating in 2021.
The Ducks RFC also established a southern partner club – the Shenzhen RFC, and have a women's team- Beijing Duck's Women's Rugby team.
The She-Devils are the women's team of the Beijing Devils RFC, while the Beijing Aardvarks RFC also have a women's rugby team.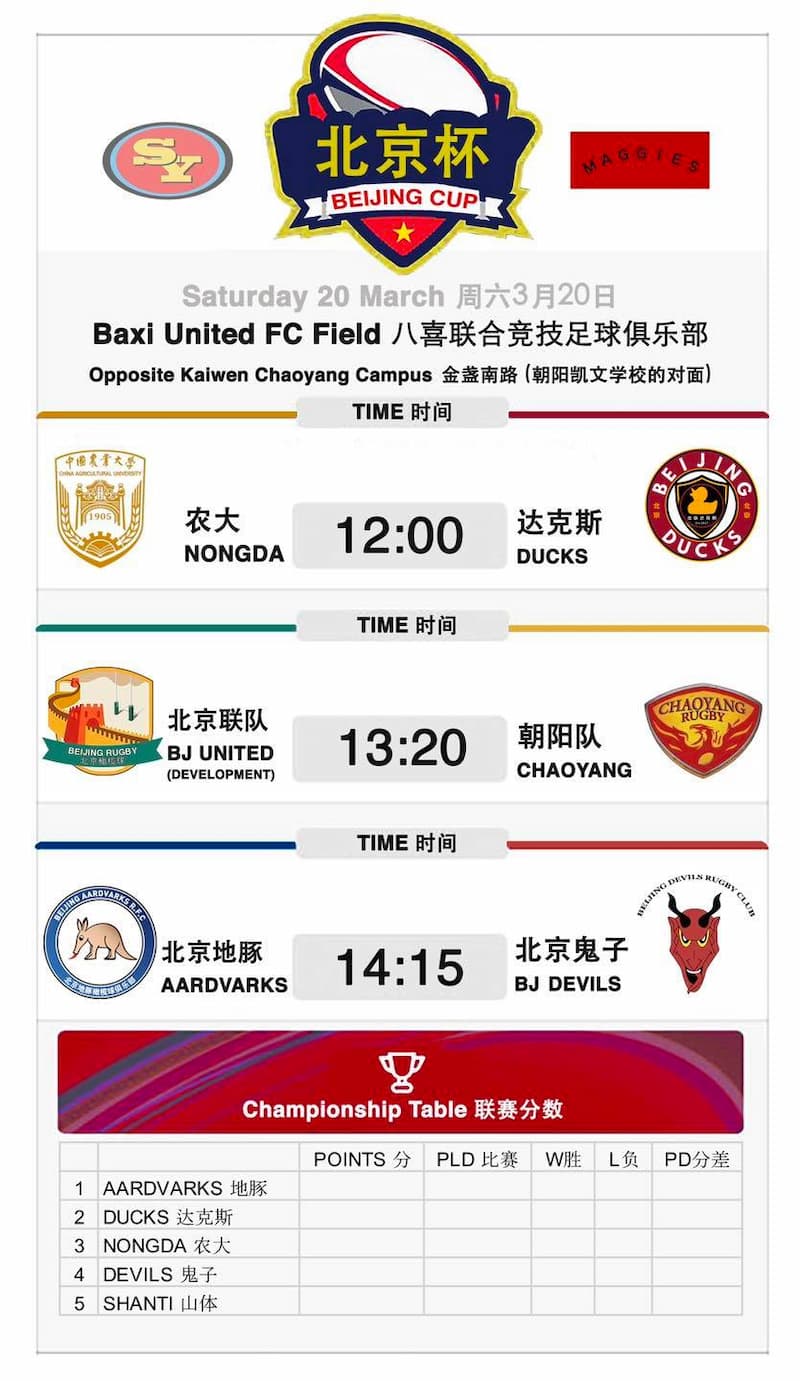 All China Cup 2021
The All China Cup 15s rugby tournament includes teams from all four regions of China.
The Guangzhou Rams RFC took on the Dongguan Bulldogs R.F.C / Shenzhen Dragons combined team on 13th March 2021, with the latter winning 19-12 and move on to the semi-finals of the All China Cup.
We are told that Guangzhou Rams RFC will play the Beijing Ducks on April 17, 2021, to determine the other semi-final spot for the All China Cup.
Rugby Tournaments in China 2021
St Patricks Rugby Sevens 2021 – Kunming: Takes place on March 20, 2021.
Wuhan 10s 2021: This is due to take place on 17th April 2021. Teams participating include clubs from Shanghai, Changzhou, and Wuhan.
Suzhou 10s: This rugby tournament has taken place in April previously.
Nanjing Tens: One of the Sino Tens tournaments. More info TBC.
Ningbo Tens: One of the Sino Tens tournaments. More info TBC.
Guangzhou 10s: Usually is part of the Sino Tens and previously took place in March.
Qingdao Beach Tournament: More information TBC.
Beijing Tens: Usually take place in June, see more about the last tournament held in 2019.
Shanghai International Rugby Tens; See more about the comp in 2019 and 2020.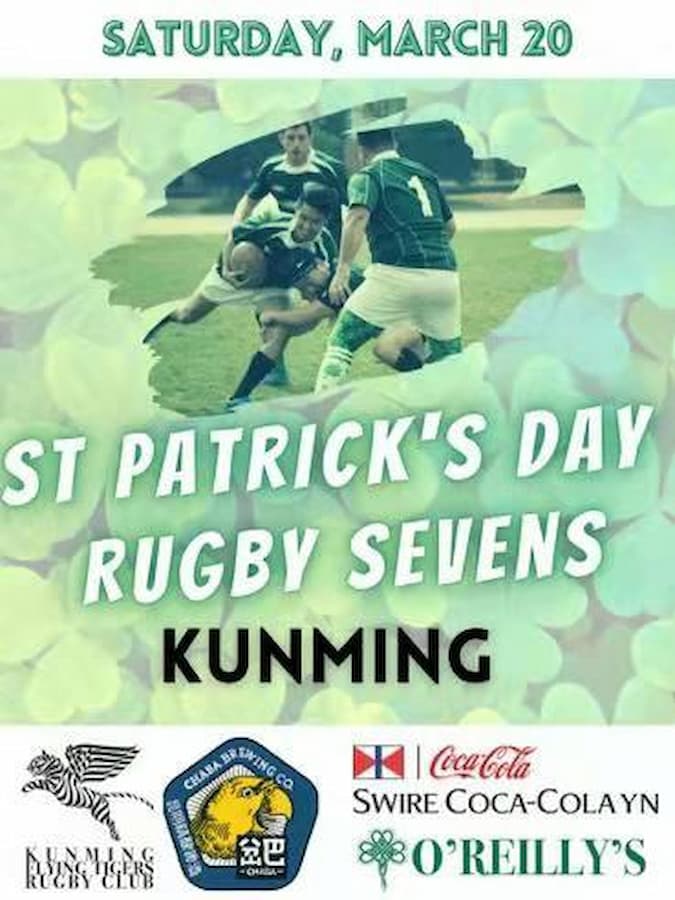 Chinese Rugby Clubs
This is a selection of Chinese rugby clubs we have found to be operating over the past couple of years.
The Shenzhen RFC, club plays in the All-China Cup and within the HKRFU leagues hosted in Hong Kong.
Guangzhou Rams RFC – Read more in our club profile!
Shanghai Rugby Football Club – Read more in our club profile!
Shanghai Twin Dragons Rugby Club
Shanghai Jianfan Rugby Club
Changzhou Rugby Club
Ningbo Rugby Club
Jiangsu Rugby Club
Dalian Rugby Club
We would love to hear from ore clubs around China and Rugby Asia 247 can profile you in our Asian Club Profiles section.
Rugby in Asia 2021
---
Trending Now