Asia Rugby Confirms its new EXCO 2021-2024
Posted On December 10, 2020
---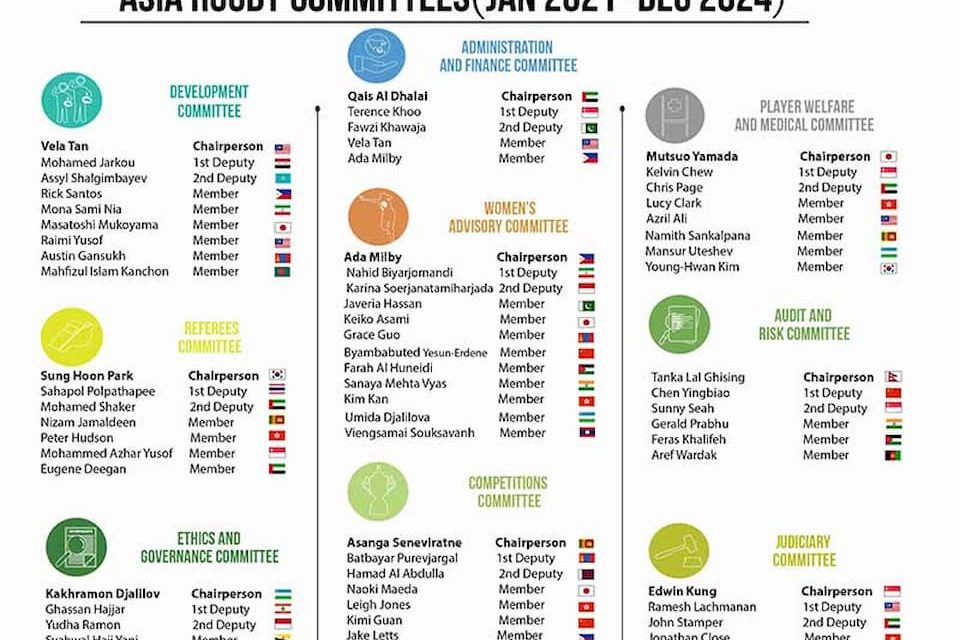 Asia Rugby this week confirmed the composition of the full Executive Committee (EXCO) to lead the sport in the region from 2021-2024.
Asia Rugby held its 2020 Annual General Meeting and Council meeting remotely on Sunday 29th November 2020 and elected new Executive Committee (EXCO) 2021 members which were announced thereafter.
The new EXCO sees:
29% female member representation
76% of unions' nominees
9 Committees
Asia Rugby said, "For the first time in Asia Rugby's history, the composition of the Committees have witnessed 29% female members representation, and an unprecedented 76% of unions' nominees into the nine committees; reflecting the strong drive towards Equality, Transparency and Accountability."
Asia Rugby Executive Committee Members 2021-2024
President: Qais Al-Dhalai (UAE)
Vice President: Fawzi Khawaja (Pakistan)
Vice President: Vela Tan (Malaysia)
World Rugby Council Member: Ada Milby (Philippines)
World Rugby Council Member: Terence Khoo (Singapore)
Member: Kakhramon Djalilov (Uzbekistan)
Member: Tanka Lal Ghising (Nepal)
Member: Ghassan Hajjar (Lebanon)
Member: Sunghoon Park (Korea)
Member: Nahid Biyarjomandi (Iran)
Member: Sahapol Polpathapee (Thailand)
Member: Chen Yingbiao (China)
Asia Rugby Committees 2021-2024
Administration and Finance Committee
Development Committee
Competitions Committee
Referees Committee
Player Welfare and Medical Committee
Ethics and Governance Committee
Judiciary Committee
Women's Advisory Committee
Audit and Risk Committee
See more information about the Asia Rugby Commitees and members for 2020.
Other major appointments by Asia Rugby in 2020 to senior roles include:
Asia Rugby Members
In 2020, members Cambodia, Iraq and Palestine, joined Asia Rugby while Afghanistan Rugby reached Full Membership.
In addition Jordon, Qatar and Nepal have joined World Rugby as Associate Members, and Iran and Laos reached Full Membership of World Rugby.
Full Members – World Rugby
China (1997)
Chinese Taipei (1988)
Guam (1998)
Hong Kong, China (1988)
Iran (2020)
India (1999)
Indonesia (2013)
Japan (1987)
Korea (1988)
Kazakhstan (1997)
Laos (2020)
Malaysia (1988)
Pakistan (2008)
Philippines (2008)
Singapore (1989)
Sri Lanka (1988)
Thailand (1989)
UAE (2011)
Uzbekistan (2014)
World Rugby Associate Members
Brunei (2013)
Jordan (2020)
Kyrgyzstan
Lebanon(2018)
Mongolia (2004)
Nepal
Qatar (2020)
Asia Rugby Membership Full Members
Afghanistan (2020)
Bangladesh
Syria
Asia Rugby Membership Associate Members
Cambodia (2020)
Iraq (2020)
Palestine (2020)
Macau
Saudi Arabia
Asia Rugby News 2020
---
Trending Now