Best rugby tournaments in Asia in July
---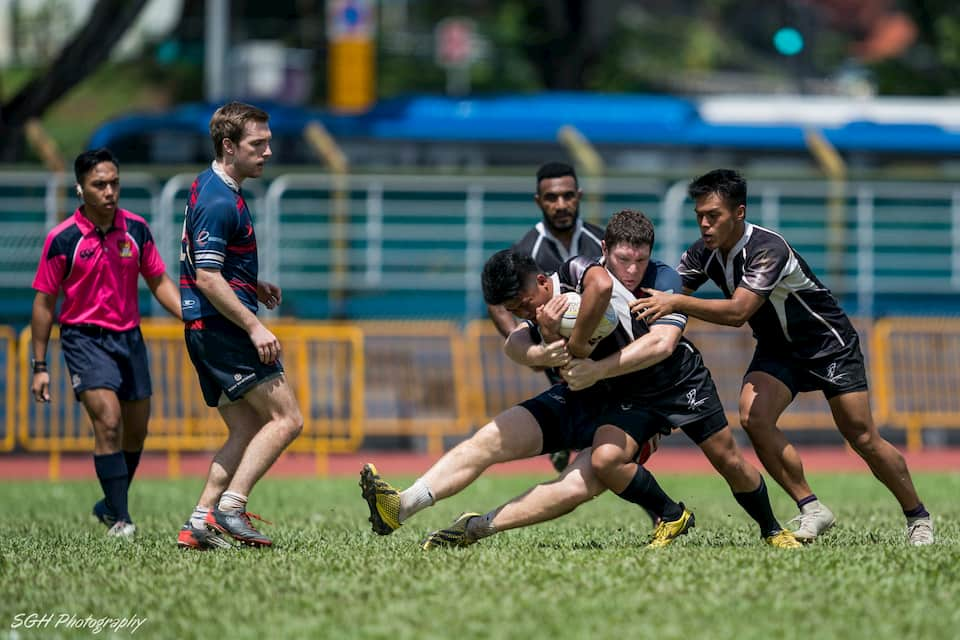 July is definitely the start of the Asian 7s rugby season as we can see by the number of sevens rugby tournaments happening throughout the continent. However, there are still social tens rugby tournaments to be found as well as some touch rugby and even al all ladies rugby festival and youth rugby. This is our wrap of the best Asian rugby tournaments (or those involving Asian rugby teams!) this July.
(Main Photo Credit: Seow Hong- Round 1 of SRU 7s 2019) 
XVs Rugby in Asia
Pacific Nations Cup 2019
The Japan national men's team are in action at the World Rugby Pacific Nations Cup, taking on Fiji, Tonga, Samoa, Canada and the USA. The tournament starts at the end of July and is completed mid-August. Japan starts its campaign at home against Fiji who are the defending champions of the Pacific Cup. Both teams will use the game as preparation for the Rugby World Cup 2019.
Japan v Fiji
Venue: Kamaishi Recovery Memorial Stadium, Japan
Date: 27 July 2019
Japan ladies vs Wallaroos
The Australian Wallaroos team will play a two-match series versus the Japan women's rugby team in Australia in July. The Wallaroos team will use the series as they build yo to playing the NZ women's team in August. Japan, who didn't play an Asia Rugby Women's Championship campaign will need the game time as well. This will be the first time Japan and Australia will play each other outside of a Women's Rugby World Cup.
Date: Saturday 13th July 2019
Venue: Newcastle Sportsground Number 2, Newcastle
Date: Friday 19th July 2019
Venue: North Sydney Oval, Sydney
World Rugby U20 Trophy 2019
The World Rugby U20 Trophy 2019 is happening in São José dos Campos, Brazil, from 9-21 July. The Japan U20 and Hong Kong U20's are both taking part in the World Rugby U20 Trophy. This is the 12th edition of the World Rugby U20 Trophy and the winner will gain promotion to the main Championship in 2020.
Japan
9 July: Japan vs Brazil
13 July: Japan vs Uruguay
17 July: Japan vs Kenya
Hong Kong
10 July: Portugal vs Hong Kong
13 July: Tonga vs Hong Kong
17 July: Hong Kong vs Canada
The full match schedule can be seen here on the World Rugby website.
Venue: São José dos Campos, Brazil
Date: 9-21 July 2019
ARWC Qualifier Division 1
Now that China has won the Asia Rugby Women's Championship Division 1, Asia Rugby has let us know that their playoff games versus Kazakhstan are in the pipeline. The two nations will play back to back matches on 31 July & Saturday 3 August in Tang Shan City, Qian'an Hebei Province in China. As we have written previously, the winner of these games will progress to play with Japan and Hong Kong in the ARWC in 2020 as well as a shot at a chance at the Women's Rugby World Cup.
The winner between China and Kazakhstan will be determined by the aggregate scores over the 2 legs.
Venue: Tang Shan City, Qian'an Hebei Province, China
Date: 31 July & 3 August
7s rugby in Asia
Asian Schools Under 18 Rugby Sevens Championship
The 3rd Asian Schools Under 18 Rugby Sevens championship take place in Malaysia and include 6 nations: Hong Kong, China, Malaysia, Thailand, Singapore and Guam. The previous Asian Schools Rugby Sevens Championship was held in Hong Kong in 2016 and was won by Hong Kong.
Venue: Stadium Educity, Iskandar Puteri, Johor, Malaysia
Date: 3-4 July 2019
Seoul 7s International Rugby Festival
The Seoul Sevens Seoul Sevens International Rugby Festival features national and college teams from around Asia. It is offering prize money of around $8,500 U.S. dollars! National teams from Hong Kong and Malaysia are confirmed and in total around 240 players from six countries are believed to attend the rugby festival in South Korea. News reports said the Seoul Rugby Union have organised the tournament.
Venue: Mokdong Stadium, Seoul, South Korea
Date: 6-7 July 2019
MBPJ–KRS Ladies Sevens 2019
The all ladies 7s rugby tournament has a local division and an international training squad division which includes teams from Lao PDR, Hong Kong, Singapore and Malaysia.
Venue: Padang Astaka, Petaling Jaya Selangor, Malaysia
Date: 13-14 July 2019
Perlis Royal 7S 2019
The 7s rugby tournament includes a number of categories such as Schools, Under 21 and Open 7s. The Perlis Royal 7s is organised by Persatuan Ragbi Perlis Baru, known as Perlis Rugby.
Venue: Mini Stadium IPG, Kompleks Sukan Tuanku Syed Putra, Malaysia
Date: 13-14 July 2019
Palawan 7s Rugby
The Palawan 7s rugby tournament was only established in 2016 and is appeals to those who want to play rugby in an ideal holiday destination. The Philippines Rugby Football Union are also offering Level 1 World Rugby coaching courses as well as Get Into Rugby courses over the weekend.
Venue: Municipality Grounds, Narra, Palawan, Philippines
Type: Men's, Women's, Ladies U19 sevens rugby
Date: 27th July 2019
Mercantile 7s: Sri Lanka
The 49th Mercantile 7s Rugby takes place over 3 days in Sri Lanka and is organized by the Mercantile Rugby Football Association. The 7s rugby tournament is open to all corporates in the country. The organisers have recently launched a new website with more information. It appears that in addition to the Men's 7s rugby, there is also a women's tag rugby tournament. Sri Lanka has a number of 7s tournaments and is seeking to make the sport professional in the future.
Venue: CR&FC grounds, Colombo, Sri Lanka
Date: 19-21 July 2019
Bin Banloerit I-San Rugby Sevens 2019: Thailand
This Thailand Rugby run 7s tournament features a number of Thai and Lao sevens rugby teams involved and they are split into two pools for the rugby tournament. For more about the Bin Banloerit I-San Rugby Sevens read here.
Venue: National Sports University Stadium, Thailand
Date: 6-7 July 2019
The SRU Club 7s: Singapore
The Singapore Rugby Union is hosting the 2nd round of the Club 7s. The 1st round in June was won by the Blacks RFC for the ladies and Singapore Bucks by the men. The standings for the men and women can be seen on the Macoocoo website.
Venue: Queenstown Stadium, Singapore
Date: 6-7 July 2019
Social Tens Rugby in Asia
Cebu Ladies 10s
This Cebu Ladies 10s tournament seems to include a ladies 10s contact rugby tournament as well as a beach touch rugby tournament as part of the "International Rugby Festival". This is also one of the few all-ladies rugby tournaments in Asia. The Makati Lady Mavericks are the current Dragon Cup holders.
Venue: Cebu International School grounds, Philippines
Date: 13-14 July 2019
UTP Super Rugby 10s Championship 2019
This Tens rugby tournament in Malaysia also includes a Get Into Rugby program which precedes the tournament. In addition, there are a number of divisions at the UTP Super Rugby 10s for boys and men as well as ladies open contact and touch.
Venue: Universiti Teknologi Petronas
Date: 13-14 July 2019
Macau Tens Rugby Tournament
Macau Rugby has confirmed the Macau 10's rugby tournament will include rugby teams from Macau, Hong Kong and China.
Venue: International School of Macau
Date: 20th July 2019
Kuching 10s Rugby Tournament
This annual rugby tens tournament is organised by the Kuching Division Rugby Association – KDRA. and is being held for the 2dn time with the backing of the Malaysia Rugby Union and supported by the Sarawak Rugby Union. In 2018 the Blue Tigers from Johor won the Cup. There are men's social club tens, a Veteran Cup and a U18 Schools category at the Kuching 10s.
Venue: Sarawak Stadium, Kuching, Malaysia
Date: 6-7th July 2019
Touch Rugby in Asia
Speed Touch Singapore 2019
We could not find many touch tournaments, but this Speed Touch event in Singapore is interesting.  The touch games are slightly shorter at 15 minutes a game rather than the standard 40 minutes but the teams are 6 players versus 6.
Venue: Singapore Polytechnic Stadium
Date: 27th July, Saturday
Tambo Rugby Tournament
This unique rugby event is organised by the Tokyo Crusaders. Tambo rugby is essentially touch rugby played in Japan in rice paddy fields before the rice is planted. No tackling is allowed in this type of rugby and two points are awarded for a try. It's essentially a way to promote the game of rugby and get everyone involved, ina fun muddy mess. We would love to be there.
Venue: Hakuba, Japan
Date: 14th July 2019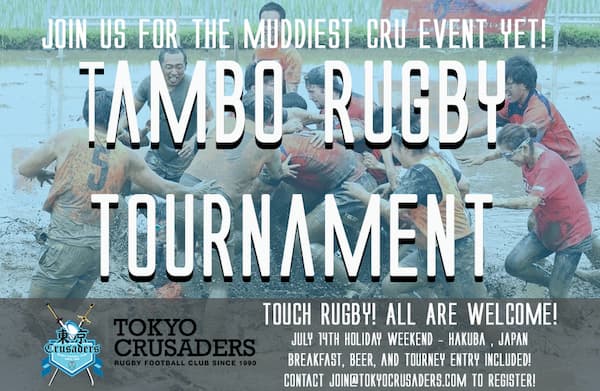 Let us know if we have missed any rugby tournaments this July in Asia!
---
Trending Now